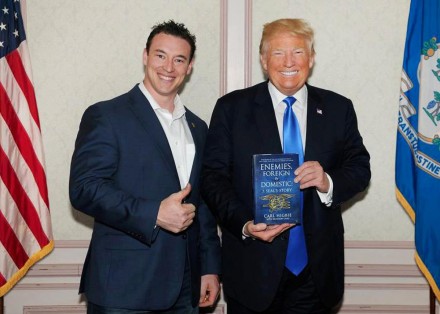 UPDATE: GOP statement. Carl Higbie, a Trump administration appointee, former Navy SEAL and media personality who was scheduled to speak at the Bridgeport Republican Town Committee's annual Lincoln Day Dinner in May, resigned his position Thursday "as chief of external affairs for the federal government's volunteer service organization after a CNN KFile review of racist, sexist, anti-Muslim and anti-LGBT comments he made on the radio." Bridgeport Republican Town Chair Mike Garrett told OIB on Friday that Higbie's invitation to speak has been rescinded as a result of his "intolerant and reckless" comments.

Garrett says he listened to Higbie's audio bites that led to his resignation. Higbie had been listed as the speaker on the local GOP Facebook page. Garrett removed that passage from the page on Friday. Garrett statement:
"The Bridgeport Republican Town Committee condemns and is disappointed in the rhetoric and comments made by Carl Higbie. His actions and implied beliefs clearly do not reflect those of our committee or our party; a party founded by Lincoln and built from the ideals of men such as Frederick Douglass and Booker T Washington. He will not be speaking at or attending our event. We are in the process of booking a new Keynote Speaker who fits the ideals and values of our party. An announcement will be made in the very near future."
Higbie was featured in an August 2017 OIB post in which Three Whiskey Patriots, Connecticut Republican State Chair J.R. Romano, and "outrageous" Silent Partner Marketing founder Kyle Reyes wax about media double standards over whiskey. The You Tube video of Higbie has been removed from the site.
Higbie issued this statement on Twitter:
I'm sorry. I'm not sorry that my words were published, I am sorry that I said them in 2013. Those words do not reflect who I am or what I stand for, I regret saying them. Last night I informed the WH that I was resigning so as not to distract from POTUS' many success. noexcuses
From CNN:
Speaking on 'Sound of Freedom' in December 2013, Higbie, while recounting a time he placed an advertisement to give away free firewood, said "the black race" had "lax" morals. He added that black women think "breeding is a form of government employment."

"Only one person was actually cordial to me," Higbie said. "Every other black person was rude. They wanted me to either load the wood, completely split it for them or some sort of you know assistance in labor. Now, mind you the ad was for free firewood, come take it all you want. And I believe that this translates directly into the culture that is breeding this welfare and the high percentage of people on welfare in the black race. It's a lax of morality."

… Speaking on "Sound of Freedom" in June 2013, Higbie said he didn't like Muslims because he hated their religious ideology.

"Go back to your Muslim shithole and go crap in your hands and bang little boys on Thursday nights," Higbie said. "I just don't like Muslim people. People always rip me a new one for that. Carl, you're racist, you can't, you're sexist. I'm like Jesus Christ. I just don't like Muslim people because their ideology sucks."
Full story here.