Update: What the hell is this? Did Leatherface show up at St. Mary's over the weekend with his chainsaw?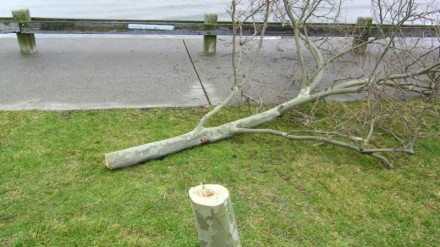 From our friends at www.doingitlocal.com
I've spoken to several OIB friends from Black Rock the past day about the tree massacre at St. Mary's, the waterfront hamlet along Black Rock Harbor. What gives? That's what everyone wants to know. Check out additional video of this at www.blackrockonline.org. Access to Saints was blocked off by police due to storm conditions. I hope the cretins that did the tree damage are Alfred Hitchcocked by mad monk parakeets. Police are investigating the vandalism.
A couple of updates follow, the first from Maxine Greenberg regarding reward donations, the second from City Councilwoman Sue Brannelly.
Thanks for your support!! We need to let the police know we are collecting donations. We have so far collected $500. Donations for Reward on information re: who killed the Sycamore trees at St. Mary's can be mailed or dropped off at Happy Tails, 3008 Fairfield Ave Bpt 06605. Checks should be made out to the Black Rock Garden Club. They are tax deductible as Club is a 501(c)3. Folks may drop off during business hours or mail them in.

Gen Barthe will keep a spreadsheet of donors, amounts, dates, etc. and they will be held by Garden Club Treasurer, Meredith Vanden Handel until there is a resolution or some time passes and then returned to donors if no reward is handed in some months.

Maxine Greenberg

Subject: Update on the trees at St. Mary's

I'd like to give an update on the status of the trees at St. Mary's. If you haven't yet heard, 15 trees at St. Mary's were vandalized Saturday night about 11:30pm. Someone with a chainsaw cut a full ring cut to the trunks of all but two of the trees from the beach to the flagpole.

I just met down at St. Mary's with Charlie Carroll, the Director of Public Facilities, Andy Valeri, Manager or Parks, Roadways, Steve Hladun, Dept of Parks & Rec Project Coordinator, Chris Donnelly, the Urban Forestry Coordinator, CT DEP Forestry and a representative from the Mayor's office.

Chris Donnelly assessed the trees and suggested the small ones be taken down now. Those 6 or so trees are being taken down now. The remaining 9 are much larger and are, according to Mr. Donnelly, worth waiting to see what happens with them. It may take a year or two for them to weaken enough to need to be taken down so we could replace the 6 trees that have to be removed now and give them a chance to grow before we have to take down the big ones.

There is also a possibility the bigger trees survive and only time will tell that story. The park remains closed at this moment because the smaller trees are at risk of snapping. The park will be reopened hopefully this afternoon after the smaller trees are taken down by the city. If not, it will be tomorrow.

Please feel free to contact me with any concerns or questions. Also, please forward to your neighborhood groups/organizations.

Thanks.

Sue

Susan T. Brannelly

Bridgeport City Council
News release from Mayor Finch:
City of Bridgeport Update on Weekend Storm Damage and Clean-up

Public works and parks department have been at work throughout the storm clearing downed trees and blocked roadways. At this point, all Bridgeport roads have been cleared. Public works crews remain focused on removal of roadside debris. Both Seaside Park and St. Mary's by the Sea are closed due to extensive storm damage. Damage assessment is underway citywide. United Illuminating crews continue to restore power and repair downed power lines for Bridgeport residents. This afternoon, the Mayor, Public Facilities Director and Director of Homeland Security will be joining State Homeland Security Commissioner Peter Boyton and Bob Kenny, Region 1 Coordinator, to tour the damage and visit with local emergency management teams. The public information number for the Bridgeport Emergency Operations Center is 203-579-3829. Residents are encouraged to call this number with any information regarding storm-related damage.

There was also a major incident of vandalism at St. Mary's by the Sea Park – discovered on Sunday, March 14th. Fifteen trees were seriously damaged by chainsaw. Anyone with any information on this act of vandalism should immediately contact the Bridgeport Police Department at (203-581-5201).

Mayor Bill Finch issued the following statement, "I encourage all residents to report any storm-related damage to the city's public information line (203-579-3829) so that we can address public safety concerns as quickly and efficiently as possible. This storm has brought extensive damage to our city, our parks and most of Fairfield County. All residents should continue to use caution as they commute throughout the city. Keep clear of any downed power lines. I would like to thank those dedicated city employees and residents who have been working around the clock to clear debris and ensure public safety. I also want to state unequivocally that anyone involved in this incredibly unacceptable act of vandalism at St. Mary's by the Sea will be prosecuted to the fullest extent of the law. I have directed the police department to conduct a full and thorough investigation. Anyone with any information on this unconscionable act of vandalism should immediately contact the Police Department at (203-581-5201)."
News release from State House legislative delegation:
STATE TO RELEASE FUNDING FOR LOCAL ROADS

The Bridgeport delegation announced the State Bond Commission is expected to release millions in state aid that will fund paving projects and road repairs across the state including Rocky Hill, Wethersfield and Newington.

Town Aid Road (TAR) funds are typically released in January but were held back by the governor.

Bridgeport is expected to receive $665,532.27 TAR grant.

The $30 million in TAR grants is expected to be approved by the State Bond Commission Tuesday, March 16, and the funds are expected to be delivered to towns within 30 days.

Members of the Bridgeport delegation include:

Reps. Andres Ayala (D-128th), Chris Caruso (126th), Don Clemons (D-124th), Auden Grogins (D-129), Jack Hennessy (D-127th), Ezequiel Santiago (D-130th)
You Know You're From Bridgeport If …
You lather peanut butter and jelly on a Portuguese roll! OIB friend Timothy "Ace" Holleran launched an email list of things peculiarly Bridgeport, and it's been making the rounds for folks to add and pass on. A sample from the top 20. Feel free to add here.
Surefire Ways To Tell If You Are From Bridgeport

1. "Iranistan" has only three syllables, and none of them contain an "i."

2. No matter what store they put on the corner of North and Park, it will always be called King Cole.

3. The Duchess at the nexus of North and Boston will forever be Maraczi's. Tomlinson is also The Greek's.

4. The mall in Trumbull is better known as Korvette's.

5. You're used to hearing people pronounce "Shelton" without a semblance of a "t."

6. Anywhere north of Trumbull is called "up the line."

7. You had a bike from Rocky Voccola's.

8. You actually shopped downtown, especially at Christmas.

9. You're used to asking people what parish they are from.

10. You have no problem going to urban places like Yankee Stadium.

11. You couldn't tell the Candelite from the Pix.

12. You attended cartoon-laden matinees at the Hi-Way, Merritt or Beverly.

13. You are fully aware of, and don't have a problem with Greek pizza.

14. On the same topic, terms like "ahbeets," "mani-goat" and "scamotes" need no translation.

15. When you mention Central High School, there is no need to throw in the city's name as a qualifier.

16. The paper is still the Bridgeport Post.

17. Notre Dame H. S. and SHU are still in Bridgeport.

18. You know NOT to tell the guy at the Canteen "what's on that dog" until he has it in the cradle.

19. You ate Pizza from Mario the Bakers if you were in the North End and Jennys on the West side

20. Seaside Park is still the only beach in the area with no homes built on it and a dump behind it – never stopped any of us from going there – day or night.