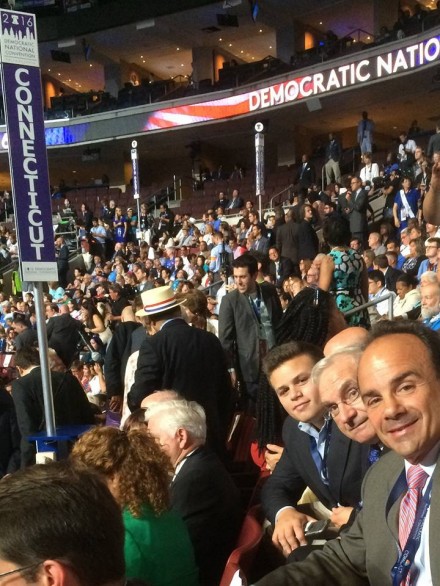 A-hunting we will go. That will be the battle cry for Mayor Joe Ganim and other gubernatorial candidates forging a Democratic primary against the endorsed candidate at the party's May convention. For challengers, 15 percent delegate support is required to cement a ballot spot in August. The state party this week released its town-by-town delegate count totaling 1,927 statewide. New Haven at 97 delegates and Bridgeport at 90 lead the list. So about 290 delegates required. See the town breakdowns here.

The delegate allocation comes from two factors, according to party rules: the number of registered Democrats in the town and the votes cast for the Democratic candidate in the most recent presidential election.
Delegates will be selected in the spring, the list furnished by the respective town chairs to state party officials. Translation: Democratic Town Chair Mario Testa selects the delegates with input from some district leaders. Prior to that, however, primaries in Bridgeport Democratic Town Committee districts will take place in March. The results of those races determines whether Testa receives two more years as Democratic leader. The town committee members select the local chairman.
City political activists are already discussing potential slates for the early March primaries.
So if Ganim pushes ahead with a run for governor he must pay attention to the town committee primaries to advance another term for his ally. Ganim is looking at a bloc of delegates from Bridgeport and New Haven as his base at the state convention. But he'll need support in other towns to cement the 15 percent. That process has already begun via party insiders who serve as serial delegates to the state convention. State primaries will take place August 2018.
If Ganim fails to achieve 15 percent support at the convention he can qualify for the primary ballot by securing certified signatures from two percent of registered Democrats in the state; a long, hard haul.
The Democratic field for governor still lacks a dominant front runner.
If Ganim decides to pursue a statewide run, he'll likely pivot next month from an exploratory committee with a maximum personal contribution of $375 to a full-blown committee allowing up to $3,500. He must dial for dollars the old-fashioned way because he's blocked from participating in the state's public financing program.
So while he has an eye on a statewide run what happens close to home in the town committee primaries is key for candidate viability.