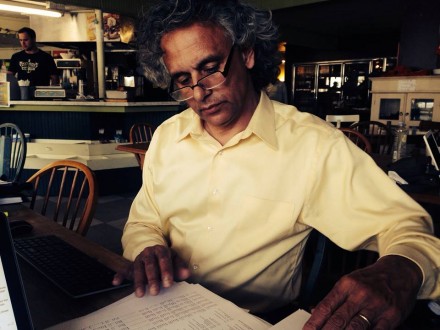 Asserting the city needs a mayor with a "titanium spine," Republican mayoral candidate Enrique Torres explains in this commentary why he rejected a plea to surrender his ballot spot to Bill Finch.
Two days ago, I met with Mayor Bill Finch. I was offered a deal wherein I would step down as the Republican candidate and allow him to run in my place, and in return, many of the initiatives I have advocated for over the past 2 years would be implemented, were he to win. I declined.

While many of the things offered in the meeting were things that I have wanted to see done very badly for the last two years, I have too much respect for the office of Mayor to be bought off. I am not for sale. Furthermore, I'm tired of the "one hand washes the other" culture that has come to define Bridgeport politics. We need real change in Bridgeport–and I do not believe that change can or ever would originate from another 4 years of Mayor Finch. However, I remain amenable to the idea of forming a coalition with Mayor Finch to defeat Joe Ganim, a man who is not fit to serve as our mayor. While I support re-entry into the workplace for ex-felons, Mayor Ganim has violated the public trust and should seek employment elsewhere.

My belief is that Bridgeport's salvation lies in restoring integrity to City Hall, becoming transparent with our spending, cutting waste, lowering taxes and bringing businesses and jobs to our city. We MUST stop the "pay to play" that has plagued us for generations. Both Finch and Ganim have been huge patronage mayors, and I aim to ensure that neither of them occupies the Mayor's office come November.

Bridgeport has a clear choice on November 3rd. We can either regress, choose Ganim, and roll the dice that the man has reformed himself or that any investor this side of the Mississippi is going to want to invest in a city that elects such a man. Or we can look to a new future focused on good government founded on transparency and professionalism. Electing me will usher in a new generation of Bridgeport politics. I will root out the political bosses who have kept our city down for decades. Together, we will restore integrity to City Hall and reduce the crippling waste in our budget. We will lower taxes by cutting this egregious waste and we will create a fertile business environment for investors the world over. Most importantly, we will create jobs! And honestly, it won't be as hard as you might think. You just need courage and a titanium spine. We outnumber them, you know. 6,200 people voted for Joe Ganim in the Primary. There are still 54,000 people left to vote. If you stand with me, we will #SayNOtoJOE on November 3rd and for once in Bridgeport, the people will be the victors.