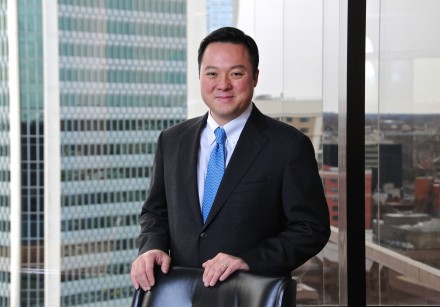 Democratic State Rep. William Tong on Tuesday filed paperwork with the State Elections Enforcement Commission forming an exploratory committee for statewide office with a focus on attorney general, Connecticut's chief civil lawyer. On Monday George Jepsen announced he'll not seek a third term in 2018. Tong was a candidate for U.S. Senate in 2012.

From Tong:
"Today, I will be forming an exploratory committee for statewide office, with a focus on Attorney General, because Connecticut needs an Attorney General who will stand up for all of us. As I explore running for this office, I will listen to the people of Connecticut and hear what they want in their chief legal advocate. Like Attorney General Jepsen before me, I serve as Co Chairman of the Judiciary Committee, where I personally stood up to the NRA by fighting to pass laws to stop gun trafficking and protect victims of domestic abuse from gun violence; stood up to an unjust system of mass incarceration by fighting to pass the Second Chance Society law, the Excessive Use of Force law, and the law reforming a broken bail system; and stood up for civil rights and basic liberties by fighting for marriage equality, transgender rights, and the rights of immigrants unfairly targeted by federal authorities. And in the midst of the mortgage crisis, I stood up to Wall Street by fighting to overhaul our state's foreclosure laws and to help thousands of people stay in their homes.

"I took on these fights because I know what it's like to face enormous odds. My parents came to this country with almost nothing and struggled every day for my sisters and me. They were able to succeed in a system where if you worked hard and played by the rules, you could achieve the American Dream. Under Donald Trump, we have an administration that attacks families like mine instead of helping us make that American Dream a reality. We need an Attorney General who will continue the legacies of George Jepsen and Dick Blumenthal, standing up to powerful special interests and fighting for those who need an advocate. To serve as Attorney General of Connecticut, and to make history as the first Asian American constitutional officer in state history, would be the highest honor of my professional life and part of my lifelong fight to stand up for all of us."

William Tong has served over a decade in the Connecticut House of Representatives including two terms as Co-Chairman of the Judiciary Committee. It is his responsibility to lead the House of Representatives on all legislation related to constitutional law, criminal law, civil rights, consumer protection, probate, judicial nominations and the Judicial branch, and many major areas of substantive law. He is responsible for managing the Judiciary Committee staff and leading a committee of 45 members, collaborating with the Attorney General and his staff on a daily basis. He has practiced law for the last 14 years in active practice as a litigator in both state and federal courts in Connecticut in one of the most well-respected law firms in Connecticut. His work in private practice has included extensive experience managing large cases and teams of lawyers and critical client relationships. He is a graduate of the University of Chicago Law School where he was taught by then-Professor Barack Obama.