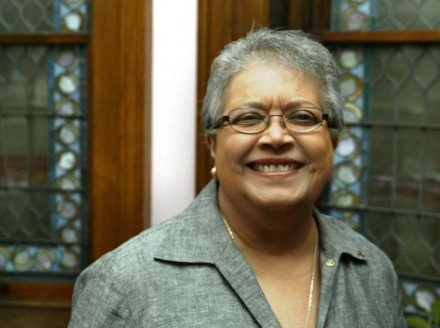 Long-time city activist and registered Republican Rosa Correa says she's running as a petitioning candidate for the Office of Registrar of Voters to "awaken" disconnected GOP electors to participate in the election process. Gee, counters Republican Town Chairman Michael Garrett, Correa hasn't even participated in recent Republican campaigns and has often been a friend to Democrats.

Correa has qualified for the November ballot through the petitioning process. Democrat Sandi Ayala and Republican Linda Grace were both endorsed for another two-year term for registrar by their respective parties. Their elections (they did not have primary challengers) are now automatic because state law requires major party representation in the registrar's office, according to Patrick Gallahue, spokesman for Connecticut Secretary of the State Denise Merrill.
In the lonely world of Bridgeport Republican elected officials, the only areas automatic are the positions for registrar and city sheriffs. It used to be that way on the Board of Education as well until the Connecticut Working Families Party mounted a presence in general elections in which their candidates finished ahead of Republicans.
The rules are different for registrar. If Correa, for instance, manages more votes than Grace, the cash-strapped department would have three $70K registrars instead of two. "If a petitioning candidate for registrar were to garner the highest or second highest number of votes, that municipality would enjoy the service of three registrars of voters," says Gallahue.
Correa, as a petitioning candidate, disagrees that's the case based on her read of the statute but plans to forge ahead with her citywide race.
"We haven't seen Rosa Correa since the 1990s at a Republican meeting," says GOP leader Garrett. "She hasn't supported any Republican candidates. She supported Bill Finch for mayor and when she had a second chance to support her fellow Latino (Rick Torres) she chose a Democrat Mary-Jane Foster." Foster, a registered Democrat, ran as a petitioning candidate in the 2015 general election for mayor won by Joe Ganim.
Correa has a reputation for an independent streak and if she is to be successful she'll need support from the city's unaffiliated voters.
CT Post scribe Brian Lockart also weighs in on this issue:
There is precedent for a trio of registrars. A few years ago the Working Families third party successfully fielded a candidate for registrar in Hartford, so that city has a Democrat, Republican and WFP member in that office.

"(It) ensures a system of checks and balances that keeps the process fair and provides a level of oversight of the system to make sure it's working fairly for everyone," said Carlos Moreno, the WFP's communications director.
Full story here.
Correa is no stranger to city government and politics. She has served on the Planning and Zoning and Civil Service commissions and also chaired the Bridgeport Housing Authority commission. She retired recently as Director of Strategic Relations at Career Resources, Inc.
Correa statement:
In regards to running for Registrar of Voters, I believe the people should have a choice in the officials who administers elections throughout the City. I have a great appreciation for the electoral process and what it means to be able to choose the best person who can maintain a high level of performance in the Registrars' Office. The ability to vote for a representative is the foundation of the Republic. It would be an honor and a privilege to oversee the elections process in the City and provide residents with information and opportunities to participate in the electoral process.

I am a Republican. Over the last fifteen years, the total enrollment in the Republican Party has dropped from roughly 6,600 to 4,600. Approximately 1000 of the current registered Republicans are listed as "inactive." Currently, there are more inactive Democratic voters than total registered Republican voters. The population of the City has increased throughout the last fifteen years and notably the Democratic Party has seen its numbers escalate, minor political parties have increased, and total unaffiliated voters have remained unchanged. Yet the one political party of registered voters that continues to decline is the Republican.

It is very important that a system of checks and balances remain in place to ensure a functioning stable city government. I believe the dominance of one political party has had adverse effects on the people of the community. Providing Bridgeport residents with a viable alternative voice and choice is good for democracy.

I believe that my extensive community service and professional experience enables me to improve and maximize the performance of the Registrar's office (see attached bio). I have served on various boards and commissions and always wanted to be an elected by the people of this city.

Now that I have retired, I can completely devote all of my time and energy to pursuing this life-long passion to serve as an elected official in the City where I grew up, raised my children/grandchildren and where I will continue to live.