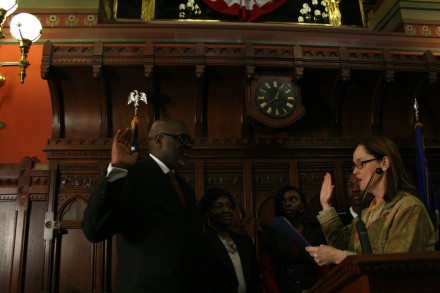 Rev. Charlie Stallworth, victorious in the special election to fill the seat vacated by Chris Caruso, received the oath of office on Monday. From the House Democrats:

STALLWORTH TAKES OATH OF OFFICE

Becomes newest state representative for Bridgeport

Charlie Stallworth (D-Bridgeport) today was officially sworn in as the state representative from the 126th House District. Secretary of the State Denise Merrill presided over the noontime ceremony in the State Capitol. Rep. Stallworth was elected Tuesday in a special election. He takes over the seat that was held by veteran lawmaker Chris Caruso.

"It is an honor to be a part of the Bridgeport delegation to the General Assembly," Rep. Stallworth said. "My predecessor always worked hard for the people of the 126th District and never wavered in his support of the community. I plan to continue working hard and keeping our voices heard at the State Capitol."

Rep. Stallworth will be immediately challenged as a member of the House of Representatives as the House Democrats push legislation to spur economic growth and create jobs.

"Rep. Stallworth will have to hit the ground running as we tackle unprecedented fiscal issues," Speaker Donovan said. "I am sure he will be an asset to our team–the residents in his district and the City of Bridgeport are in good hands."

Rep. Stallworth will be serving on the Higher Education, Finance and Public Health Committees.