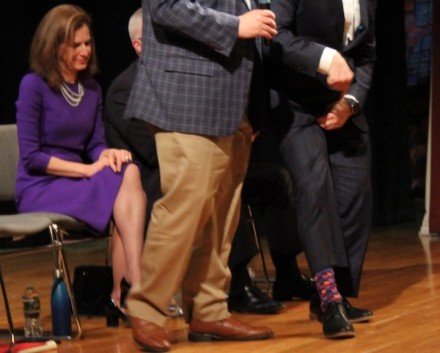 Mayor Joe Ganim has two ways to qualify for the August 14 Democratic primary for governor: 15 percent delegate support at the May party convention, or fanning out political operatives across the state for a labor-intensive petition drive. If there's any doubt in advance of the convention about delegate support you start the signature process on day one, and that is May 1.

According to the state election calendar, candidates for statewide office may circulate petitions starting May 1. The submission deadline is June 12. Six weeks to spread operatives and canvassers across the state to bag the more than 15,000 certified signatures of Democratic electors to qualify for the August 14 primary. Statewide candidates must submit thousands more than that to cover rejected signatures.
The Ganim camp will fish where the fish are: major cities in the state, that means Bridgeport, New Haven, Hartford, Waterbury, New Britain, Stamford, etc. Large-acre zoning towns like Easton not the place to covet signatures. Those towns are reserved for Republicans.
The signatures are submitted to local elections officials before finding their way to the office of the Connecticut Secretary of State. It's sweat equity for campaigners and mind numbing for elections officials who must measure the signatures of electors against voter files for certification.
For Ganim who knows he'll not be party endorsed for certain and challenged to receive the 15 percent at the convention, you start the process early so you can enter the convention bragging to delegates about the ongoing petition drive. If you come up short at the convention the signature effort carries on. If you're certified for the ballot via signatures it leverages a personalized list you can work with for the primary.
How often has this been successful? Not often. It's a slog to accumulate that many signatures requiring an army of operatives infiltrating accessible urban voters, if you're a Democrat.
The Democratic convention, as it's shaping up could be chaotic. Ganim, for one, loves chaos when he's trying to break through via a convention, or perhaps blocking a leading contender from nailing the 50 percent plus one required for the party endorsement.
Greenwich millionaire Ned Lamont and former Connecticut Secretary of State Susan Bysiewicz appear to enjoy the most delegate support. But does one have enough for the endorsement? If not, then it's an open primary with no endorsement.
Now here's where this stuff becomes negotiable at a convention. Leading campaigns will conduct polls trying to determine how ballot alignment can benefit them. For instance, if the Bysiewicz campaign determines that Ganim's presence on the ballot benefits SuBy, it could free up additional delegate  support for Ganim. We've got our 15 percent, let's make sure Joe gets his. Lamont's campaign will have its own configuration how ballot alignment benefits him.
In the quest for 15 percent convention support, Ganim and Democratic Town Chair Mario Testa start with Bridgeport's 90 delegates as a base and scout from there. They need about 200 more delegates to get there. The scenario for Ganim to land 15 percent exists because of the number of potential candidates for statewide office covering the constitutional positions: governor, lieutenant governor, treasurer, attorney general, secretary of the state, comptroller.
So if you're a candidate for attorney general with a bloc of delegates to bring to the table and want Bridgeport's support, Testa is gonna say, let's be friends. A lot of this stuff could play out on the convention floor.
Meanwhile, if you're delegate-challenged, you field an organization to hustle signatures: a two-pronged strategy for ballot access.
If both fail, you pack your bags and figure out whom to support.