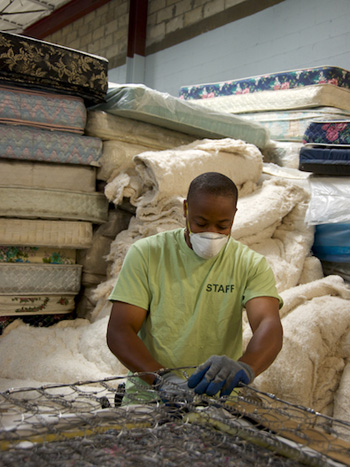 Park City Green is one of those unique Bridgeport businesses with a spring in its step in more ways than one. The not-for-profit specializes in mattress deconstruction serving more than 50 municipalities in Connecticut as well as commercial volume program participants such as hospitals and universities. Since 2016 Park City Green has recycled more than 250,000 mattresses and they were doing it before Connecticut passed the mattress recycling law.
Located at 459 Iranistan Avenue Adrienne Farrar Houel serves as president and CEO. These mattresses would otherwise end up in landfills or incinerators. They sell the component parts as recycled products for industrial use.
At Park City Green, our mission is to partner with companies, municipalities, organizations and institutions to save them money in mattress disposal, increase their recycling rates, green and clean neighborhoods, and empower communities and individuals economically through job creation.
Park City Green is a department of  Greater Bridgeport Community Enterprises. A key component of their hiring protocol includes second-chance employees.
Park City Green will hire an additional 5-10 Second-Chance community members and other low-income unemployed local residents, offering them a way to become economically self-sufficient, support their families, and discontinue public benefits.