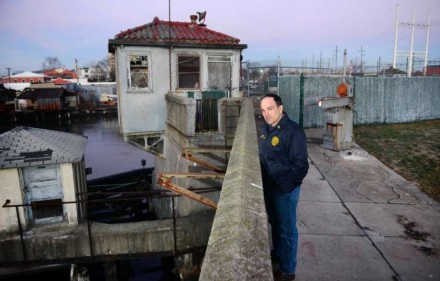 For years the former Congress Street Bridge has been a must campaign stop for local, state and federal candidates for public office. The transportation void cuts off a key access point across the Pequonnock River from the East Side to Downtown. The price tag for a new bridge is upwards of $45 million. Mayor Joe Ganim says the city will move forward on trying to bridge the dollars to make it happen.

More from CT Post reporter Brian Lockhart:
On Congress Street, Mayor Joe Ganim wants bustle. More specifically, cars and pedestrians crossing over a new Congress Street bridge. "We're going to make a real push for it," he said.

The city is moving ahead on borrowing $450,000 to study how best to restore the connection. The Ganim administration is also looking at lessening the construction cost by having that section of the Pequonnock declared off limits to the type of large boats that once required an expensive drawbridge.

"We want to look at the possibility of a vehicle and pedestrian causeway versus a (movable) bridge," said Tom Gill, Ganim's economic development chief. "The businesses located north of the Congress Street Bridge, none of them have used any type of barging or boating in years."
Full story here.