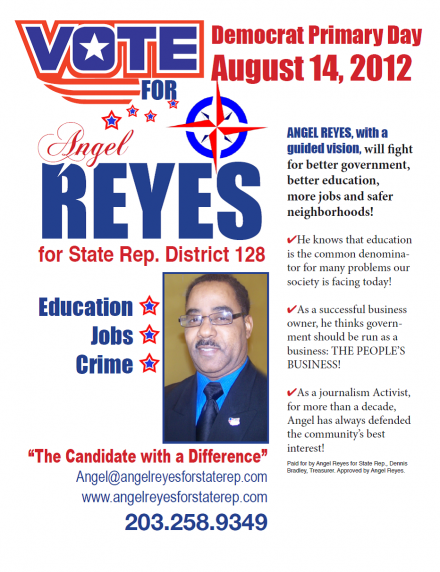 Journalist and community activist Angel Reyes is challenging Christina Ayala, the endorsed Democrat in Connecticut's 128th State House District. Assuming Reyes successfully petitions his way on to the ballot, the heavily Latino district will sport an intriguing ballot lineup for the Aug. 14 primary.

Christina Ayala is the daughter of Democratic Registrar Santa Ayala and former City Councilman Alberto "Tito" Ayala. Christina was endorsed for the State House seat occupied by Andres Ayala who's challenging Ernie Newton and Ed Gomes in an Aug. 14 primary for Gomes' State Senate seat. Tito is Andres' uncle. Christina Ayala is a supervisor for the Head Start Program at the city's anti-poverty agency Advancement for Bridgeport Community Development.
Aug. 14 will also feature a primary for U.S. Senate between endorsed Congressman Chris Murphy and former Connecticut Secretary of the State Susan Bysiewicz. The ballot in the 128th District would go like this:
Line A: Chris Murphy, Ernie Newton, Christina Ayala.
Line B: Susan Bysiewicz, Andres Ayala, Angel Reyes.
Gomes will appear on Line C by himself unless another candidate jumps into the primary picture.
Supporters of both Christina Ayala and Andres Ayala must educate voters about their ballot positions. Andres Ayala has a history of running strong in the State House district so Reyes could benefit from his ballot location. Adding another intriguing wrinkle to this political family mix, Reyes is married to the cousin of Carmen Colon, Andres Ayala's partner, and major asset to the Andres Ayala campaign operation. The State House district covers the heart of the East Side and crosses into portions of The Hollow and West Side.
Reyes told OIB he made a conscious decision not to seek the endorsement of the party establishment, opting for an outsider's campaign message.
From the Reyes campaign:
Angel Reyes, long-time, East Side, social-justice activist, is proud to announce his candidacy for the office of State Representative, 128th General Assembly District …

Businessman: Mr. Reyes, long-time East Side resident and proprietor of a successful East Main Street business, wants the people of the East Side of Bridgeport to know that they now have a chance to bring real change to the East Side through the election of someone from their neighborhood who has lived their life and found a way to overcome the daunting, cultural and political obstacles standing in the way of the economic and social success of the poor and immigrant community of Bridgeport's East Side.

Immigrant: Mr. Reyes, an immigrant, after successfully struggling to educate himself and establish a thriving business, has spent over a decade working to improve the lives of poor and immigrant Bridgeport residents and their children, concentrating his efforts on the neglected people of Bridgeport's East Side.

Activist-Volunteer-Mentor: Among the nearly two dozen civic groups and causes to which Mr. Reyes has volunteered his time and leadership are: the Caribe League; the Latino and Puerto Rican Affairs Commission; Habitat for Humanity; the Boy Scouts; the Christian Brotherhood League; the McGiveney Community Center; the East Main Street Festival, and many other charitable and civic organizations dedicated to helping Hispanic youth and the larger Hispanic community …

Journalist-Author: Among Mr. Reyes' many outstanding achievements are his journalistic accomplishments, which include the founding of the bilingual Park City independent, editorship of La Voz Hispana de Connecticut, publication of the Fairfield County Independent, and the authorship of a book The Movement …

Warrior: Angel knows how to fight for social justice and wants a chance to fight for the East Side, as state representative from the 128th, in Hartford. If elected, he'll focus on bringing dollars back from Hartford for EDUCATION, JOBS, and SAFE STREETS on Bridgeport's East Side …

Ø EDUCATION: Angel Reyes understands that education is the ONE thing that can create lasting prosperity for the children of working people.

Ø JOBS: Angel Reyes knows that good jobs in the community are essential for keeping families strong, healthy, and successful.

Ø SAFE STREETS: Angel Reyes knows that it will take new ways of thinking and a willingness to fight hard in Hartford to make sure that Bridgeport gets all the help that it needs to keep the East Side's streets free from the drugs, gangs, and violence that destroy families and their dreams.

Campaign Kick-off Celebration: Meet the next State Representative of the East Side of Bridgeport, Angel Reyes, on Friday, June 1st, at The Café and Lounge, 1691 Main Street, Bridgeport, from 5-9 PM …