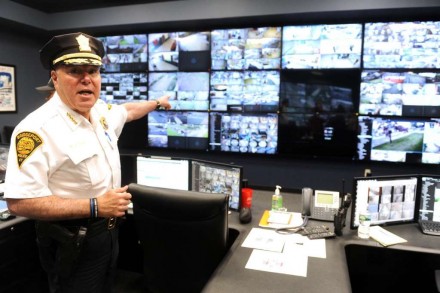 A law enforcement tool includes more than 1,000 cameras in city neighborhoods to catch bad guys, but could the good intent become intrusive? We lose some liberties in the cause of public safety. The Police Department has expanded the Fusion Center operated out of the Margaret Morton Government Center at 999 Broad Street, an advancement to "monitor situations in real time," according to Police Chief A.J. Perez. This program was initiated under then Mayor Bill Finch but has built out over time.

CT Post reporter Tara O'Neill has more:
If a red car is spotted driving away from a crime, within minutes Bridgeport police can track down every red car in the city.

This is made possible by the police department's new Fusion Center, at 999 Broad St., which is staffed around the clock to monitor the 1,200 cameras around the city, Lt. Paul Grech said.

"But it's not Big Brother watching," he said.

The department uses the center to focus on quality of life, Grech said–in some places that means watching out for possible drug transactions or shootings, in others it means catching illegal dumpers.

"This place allows us to monitor situations in real time," Police Chief Armando Perez on Wednesday, standing between two walls of screens displaying footage from around the city.
Full story here.