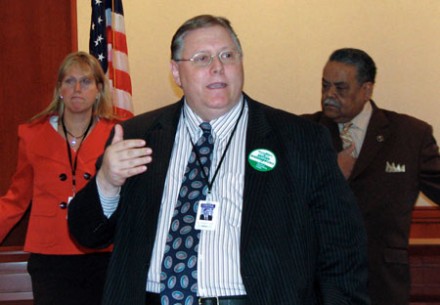 Former State Rep. Chris Caruso has been flying under the radar these past 18 months after he accepted a state position from Governor Dannel Malloy as an adviser on urban policy working for the Department of Labor. The Big Wave had contemplated entry into the State Senate race that includes Democratic Party endorsed Ernie Newton and State Rep. Andres Ayala but only if incumbent Ed Gomes had opted out. The Big Wave is coy about folks he supports until he's ready to officially announce. Had Gomes not sought reelection Caruso was in, but Gomes seems like he'll dig in to protect his turf and if that's the case Caruso supporters say he will likely support Gomes.

Caruso, who came close to winning the mayoralty in 2003 and 2007, decided to take a state position instead of challenging Finch last year. (When Finch heard the news he celebrated.) It was time for Caruso, 52, to settle down, think about his future and make a few bucks toward a state pension. But there are times he misses the action and supporters had urged him into the State Senate race. He did not want to create the impression he was pushing out Gomes with whom he has built a strong relationship after years of fighting in their early political careers. Had the Big Wave gotten into the race he'd have served as the antidote to all of the Newton detractors, a lightning rod they could embrace instead of one they distaste.
And maybe that's a campaign battle cry for Gomes: sanity over sensationalism. Ed Gomes is a warrior. If he likes you he will tell you, if he doesn't he will tell you. He doesn't like Mayor Finch. Says his word is no good. Finch counters how can he say that when he doesn't talk to me? Caruso has not dismissed running for mayor in 2015. Meanwhile he will pick and choose the candidates he supports. Newton's history won't allow for it and Ayala's relationship with the party establishment pushes him away. That leaves Gomes, a loyal Democrat with an independent streak when it comes to the local party apparatus.
Gomes can still pull off a win, but everything must break his way, and that starts with dear ol' MOM–money, organization and message. And pols like Caruso who have a following.
A fascinating dynamic has developed in this race. The Finch forces are supporting Ayala, but Newton as the endorsed candidate is running on the same line as Congressman Chris Murphy whom they also support for U.S. Senate. The Finchies must educate their voters to make sure Newton does not benefit from the Murphy push. Meanwhile, Ayala will run on Line B of Murphy challenger Susan Bysiewicz. Gomes will run as an orphan on Line C. Why? OIB asked Av Harris, spokesman for the Connecticut Secretary of the State's Office, about ballot position in this kind of state race. He explained that "According to CT General Statutes 9-437, first row is the endorsed candidate with an *. Next rows are alphabetical order."
For more on Gomes see www.senatedems.ct.gov/Gomes.php.