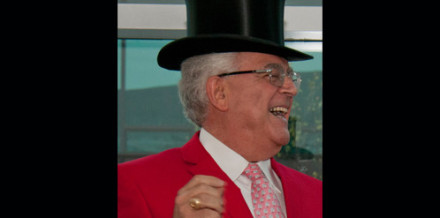 His initials are P.T. just like the legendary Phineas Taylor Barnum who created jobs and transformed the landscape of his adopted city Bridgeport. And now Paul Timpanelli, who has served for 26 years as chief executive officer of the Bridgeport Regional Business Council, looks forward to serving as the ringmaster of the 2014 Barnum Festival–the annual salute to the iconic mayor, showman, businessman, entrepreneur–honoring the mission of Barnum.

When Timpanelli was introduced as ringmaster at Sacred Heart University where he graduated and followed up with a teaching profession, election as Trumbull's first selectman before becoming head of the regional business organization in 1988, he emphasized creating "a regional festival that will provide opportunities to bring new people into our region to be entertained that will result in their spending money here and in their having an economic impact that will help us in our mission … in the mission of P.T. Barnum … to create a better place for our people to live and raise a family."
Job creation is music to the ears of Timpanelli, a Rock & Roll historian who also sings bass in the doo-wop group Yesteryear, which he started at Trumbull High School in the 1960s. Timpanelli himself has spent more than 25 years promoting jobs in Bridgeport that includes revitalization of the city's Downtown with restaurants, shops and trendy housing units, construction of Harbor Yard, Webster Bank Arena as well furthering the Steel Point redevelopment area with the expected construction of mega outdoor retailer Bass Pro Shops.
Timpanelli's goal is to build a foundation for the Barnum Festival to become an economic driver for the city by promoting Barnum's contributions to world progress as businessman, entrepreneur, innovator and economic development leader. "None of our city's or our region's or our state's problems and challenges can be successfully addressed without our success in this arena–the creation of jobs."
Under Timpanelli's leadership, building on the sizzle of the talent competition launched by 2013 Ringmaster John Stafstrom, the festival has introduced a new statewide vocal competition Barnum's Got Talent that includes four age groups and cash prizes with the finals taking place June 28 at the historic Bijou Theatre in the revitalized Downtown Bridgeport entertainment district.
Barnum lured to Bridgeport industrialists such as sewing machine innovator Elias Howe and the landscape genius Frederick Law Olmsted who designed Seaside Park from land donated by Barnum. Barnum was also a leader in the establishment of the city's banking industry, public library system, Bridgeport Hospital and Aquarion water company. He also developed the East Side of Bridgeport that became home to European immigrants attracted by the companies Barnum helped establish.
Addressing supporters during his introduction as ringmaster, Timpanelli noted, "All of us at one time or another have heard the famous, or the infamous quote attributed to P.T. Barnum … 'there's a sucker born every minute.' No one has ever really proven that Barnum said that, but I think we can all rest assured based upon what we know about the man, that P.T. may not have said 'there's a sucker born every minute' but he likely did say there is a dream born every minute … there is a hope born every minute … there is a victory born every minute … there is an opportunity born every minute … there is a person worth helping and a person worth saving and a person worth nurturing, yes … every minute … and that ultimately is going to be our goal.
"We have a real opportunity to make change in people's lives by making this festival all that it can be … just as my wife Carol helped to make change in my life, just as Sacred Heart University helped to make change in my life, we are going to as a team, all of you in this room … have the time of our lives and to help to create dreams, create hope, create victory, create opportunity for many others."
Barnum Festival events:
The Wing Ding Parade June 14, 2014
A kid-sized parade for children from throughout the region held on the grounds of The Beardsley Zoo. Grade school children compete for prizes for best costumes, floats, etc. A fun family event–At least 300-400 children and their parents participate; friends and relatives come to cheer on their favorites. Everyone enjoys free admission to the Zoo.
Barnum Pub Fest June 20, 2014
Come enjoy a Barnum Festival signature drink at more than a half-dozen of Bridgeport's wonderful downtown restaurants and pubs after work on a Friday evening. Revelers will be entertained along the way by jugglers, sword swallowers, and other circus-themed performers. The evening ends at the Bijou Theatre with live entertainment.
The Ringmaster's Ball June 21, 2014
This year, the Ringmaster's Ball will be held at Volo Aviation's sleek new headquarters at Sikorsky Memorial Airport. Dine and dance to Big City Swing among sleek jet aircraft, and Bridgeport's own aviation pioneer, Gustave Whitehead's "First in Flight" full-scale re-creation (recently recognized by the state Legislature and Governor Malloy as the country's 'First in Flight').
The Road Show June 24-25, 2014
The Ringmaster, his Royal Court and a troupe of entertainers take the Festival on the road and visit 20 area nursing homes to bring a bit of cheer to those who can't travel.
Barnum Sails the Sound June 26, 2014
A picnic on the dock, followed by a cruise around Long Island Sound with a live band on the P.T. Barnum, the flagship of the Bridgeport-Port Jefferson Ferry Company [named for the Ferry company's founder).
Skyblast Fireworks/Greater Bridgeport Symphony Pops Concert
at Seaside Park June 27, 2014
Evening begins at 6:30 p.m., with a pre-concert VIP reception at the home of University of Bridgeport President Neil Salonen and his wife, Rebecca.
The Pops Concert starts at 7:30 p.m. , fireworks at dusk.
Barnum Bobblehead Night
at the Bridgeport Bluefish June 28, 2014
A night of baseball and family fun at the Bridgeport Bluefish stadium, and everyone gets a souvenir Ringmaster bobblehead.
Barnum's Got Talent June 28, 2014
A vocal competition for four age groups–elementary-middle schoolers, teenagers, 20-30 year-olds, and 30 and above. The finals will be held at the Bijou Theatre and promises to be a sellout after the event's popular debut in last year's Festival.
Champions on Parade June 28, 2014
This annual drum corps competition draws competing corps from throughout the Northeast and Middle Atlantic states. Several local alumni corps also exhibit their musical finesse on the field at Kennedy Stadium.
The Great Street Parade sponsored by People's United Bank June 29, 2014
The culmination of the Festival–a fun-filled day of music, floats, marching bands and giant balloons. People's United Bank is the principal sponsor of the parade; incremental sponsorship opportunities are available for floats, giant balloons and marching bands/musical entertainment.