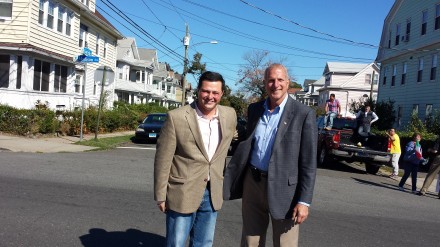 With deep roots in Bridgeport and a strong story to tell about a mega grand list that has kept taxes down, Shelton Mayor Mark Lauretti says he will formally announce his candidacy for governor next month joining a potentially large Republican field for the 2018 gubernatorial cycle. Lauretti was elected mayor in 1991, the same year Joe Ganim was elected mayor of Bridgeport his first tenure as chief executive.

Danbury Mayor Mark Boughton and Trumbull First Selectman Tim Herbst have formed exploratory committees for statewide runs. Lauretti, the 2008 Barnum Festival ringmaster, declares, "Look, if people are exploring at this point, then they don't belong in the race. There's nothing for me to explore."
For several years as mayor, Lauretti was the target of a federal corruption probe into his administration. While several in Shelton were charged, he was not. He has maintained his popularity with Shelton voters.
The 2018 race for governor could very well be a three-ring (maybe four or five) circus. But hey, we're used to that in Bridgeport, right? Democratic Governor Dan Malloy is not expected to make his reelection plans known until after the legislative session ends in June.
Hearst Media political reporter Neil Vigdor has more:
In addition to Lauretti, Boughton and Herbst, the party's 2014 candidate for secretary of the state, Peter Lumaj, state Sen. Tony Hwang, R-Fairfield, and state Rep. Prasad Srinivasan, R-Glastonbury, have formed exploratory committees.

"He's all in," state GOP Chairman J.R. Romano said of Lauretti. "I think Mark's got a great story to tell. He's done a tremendous job in Shelton over the course of many years."

Lauretti, 61, is Fairfield County's longest-serving mayor or first selectman.

"There's a lot of people that never ran anything before and now they think they can run the state," Lauretti said. "I think what we've done in Shelton is a model that can serve the state of Connecticut pretty well. When you don't raise taxes for eight years in a row, I've got to believe that's something the people of the state would just die for."
Full story here.