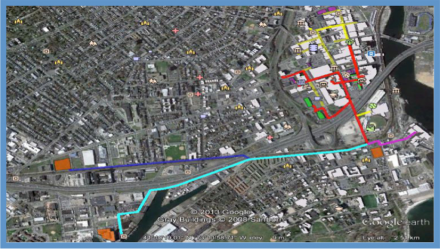 Bridgeport's State House delegation is heralding legislation resulting in a new district heating system, known as a thermal loop, Downtown. See more on the Bridgeport District Energy Project here.

News release:
blockquote>"I am thrilled that Bridgeport will be the first city in Connecticut to implement this cheaper and greener technology," said State Representative Ezequiel Santiago (D-Bridgeport). "It is my hope that this cutting-edge technology will attract more businesses to our downtown and will serve as a model for the rest of the state to follow."
This measure was adopted as part of the legislature's budget adjustments. It allows NuPower Thermal, the company taking the lead on the project, to develop an incentive program for potential customers in order to secure long-term contracts that will make the project economically viable. NuPower Thermal will then be required to submit its plan to the state Department of Energy and Environmental Protection and the Energy Conservation Management Board for approval. The company has the potential to receive up to $9 million to make the project a reality.
"I am proud to have Bridgeport taking the lead with utilizing energy that is presently being released into the atmosphere and being put to work heating our downtown buildings, reducing emissions and business energy costs," State Representative Jack Hennessy (D-Bridgeport) said.
State Representative Charlie Stallworth said, "While district energy concepts are still being developed, I am pleased Bridgeport is looking to position itself as a trendsetter. Without a doubt, this project will draw a lot of national attention and that will allow our city to be positively showcased."
"This project is key to the continued redevelopment of our downtown and West End," State Representative Steve Stafstrom said. "By providing cheaper, cleaner, more reliable sources of energy we can reduce the cost of doing business and incentivize development in our City. I am proud the Bridgeport delegation worked so well together to get this legislation passed and I want to especially thank Speaker Sharkey for his unwavering support of the project."
"I am excited that this clean and green technology is coming to downtown Bridgeport. This will not only help our business community save on energy costs but it will also reduce our carbon footprint in the process," said State Representative Christopher Rosario (D-Bridgeport).
"Finding ways to improve our energy sustainability is a critical component of a healthy economic future," State Representative Andre Baker said. "Once we get this project off the ground, it will motivate us to keep pushing forward for more and improved systems."
"The construction of the Bridgeport District Energy project took a giant step forward due to the Bridgeport delegation's support for legislation that incentivizes conversion from fossil fuel-based energy to heating and cooling generated by waste heat," said project developer Scott Guilmartin. "Without the delegation's strong efforts, the program created within the Energy Conservation & Load Management Fund would not have been accomplished. The project has received national attention with start of construction anticipated in late 2016."