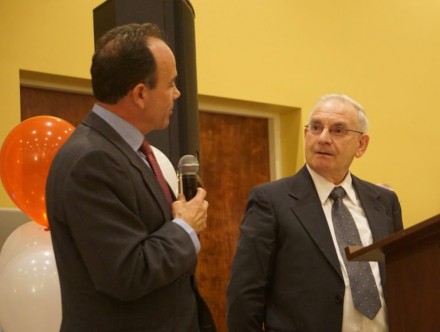 If Mayor Joe Ganim is to receive public campaign funds in his quest for statewide office, he'll need a court order. The State Elections Enforcement Commission on Wednesday validated a proposed declaratory ruling in May disqualifying Ganim from participating in the state's Citizens Election Program of publicly funded races as he explores a run for governor. The commission's unanimous ruling was based on a 2013 law banning candidates convicted of felonies related to their public office from receiving public campaign grants. Ganim was convicted of public corruption in 2003. See SEEC ruling here.

Ganim in recent days has interviewed lawyers to take his case to court. He has a $100 a head fundraiser scheduled for Thursday night at Testo's Restaurant as part of an exploratory committee that allows him to raise a maximum personal contribution of $375. He has already banked close to $200,000 for his 2019 mayoral reelection in a separate candidate committee. Ganim is not precluded from running for statewide office, just the mechanism to raise money. If he runs for statewide office without access to public money he'd have to raise it the old-fashioned way through big donations.
Ganim statement:
"This ruling is disappointing but not surprising, given the draft previously released by SEEC. The law it is based on, however, is patently unfair and most likely unconstitutional. Those like me with a felony conviction long ago in their past have the legal ability in our state to restore their voting rights, run for and serve in elected office. There is simply no rational justification for denying equal access to public financing for all candidates who qualify for the ballot. This law makes it nearly impossible for tens of thousands of citizens to compete at a run for any state office or elected position. This section of the law also makes no public policy sense. It effectively prevents a candidate who has overcome parts of their past and restored their professional status from participating in a clean elections program. It knowingly and intentionally creates an uneven playing field with almost all state office candidates in Connecticut.

"We need to continue to have a nationally recognized clean elections program, but one that provides a level playing field for all residents who want to consider making a contribution through public service. Ultimately, the strength of our democracy comes from the ability of voters–not the elections commission–to choose who should be elected governor or to any office in Connecticut.

"Providing some candidates access to nearly $8,000,000 in public campaign financing while preventing others the ability to even compete for those dollars violates both the equal protection and free speech clauses of the US Constitution. I will be examining this ruling in detail with my legal team in the coming days, and will likely seek judicial intervention on this important voter rights issue.

"This is about fairness for Connecticut voters to have the right to choose who they want to represent them as much as is it for good citizens to have the right to seek public service in a fair system."
The genesis of the 2013 law stems from state elections charges against former State Senator Ernie Newton from his 2012 legislative campaign. Newton was accused of falsifying campaign donations to qualify for a public grant. He went to trial, was convicted on lesser charges and received a six-month sentence. Newton is out pending appeal.
The Citizens Election Program was approved by the state legislature following the conviction of former Governor John Rowland more than 10 years ago. Under the program, to lessen the influence of money, candidates must reach a financial threshold in increments of $100 and less to leverage a larger campaign grant. For the 2018 races for state constitutional offices and legislature, it is estimated the state will expend roughly $40 million in public campaign grants.