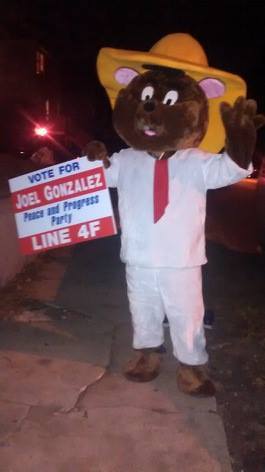 No one can accuse former City Councilman Joel "Speedy" Gonzalez of lacking a sense of humor. Twenty years after he chopped off his trigger finger on the steps of the State Capitol to make a statement in support of gun control, he's engaged in a long-shot political gunfight with Democratic incumbent Ezequiel Santiago for Connecticut's 130th State House seat.

Speedy will be running on the Peace and Progress line come November 4. See his Facebook page. If there's one family Gonzalez feels has too much political power, it's the Santiago family led by former State House member and City Councilman Americo Santiago, dad of Ezequiel, who was recently bounced from the Bridgeport Housing Authority Commission by Mayor Bill Finch. The BHA has lotsa issues.
Speedy's like a man on a mission these days, reviewing campaign finance reports of Santiago-based campaigns looking for impropriety. When he's not posing as Speedy Gonzalez, Joel is a custodian in the city Police Department. He'd like to powerwash city politics. Ah, if nothing else, Speedy makes politics fun.