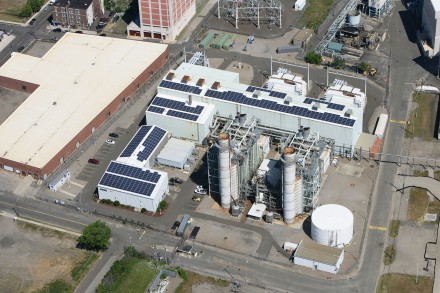 News release from Emera Energy:
Bridgeport Energy is pleased to announce its newly installed 248 kW roof top solar array is now operational and producing renewable energy in Bridgeport.
"When we began investigating the possibility of adding solar generation at this location early last year, we quickly recognized what a smart investment it would be, and how aligned it is with Emera's larger strategy to bring more renewable energy to the electricity grid," says Judy Steele, President and COO of Emera Energy, the owner of the Bridgeport generating facility.

Since purchasing Bridgeport Energy in 2013, Emera Energy has made a number of investments at the facility, including significant upgrades to the two natural gas units to increase their efficiency. The installation of the solar panels is yet another example of Bridgeport's focus on the environmental performance of the facility.

Connecticut-based company, Sound Solar Systems was contracted to install the new solar panels. The success of the project was key to Emera Energy moving forward with a similar roof top solar development at their plant in Tiverton, Rhode Island.

"We were so pleased to have had the opportunity to work with the Bridgeport Energy team on this installation," says Stepan Dragan, Production Manager with Sound Solar. "This is the first installation we have done at an existing generation site and the collaboration between our teams to ensure the project was done safely was truly exceptional."

The solar energy will be used to supply power to the plant itself and improves the overall environmental position of the plant by increasing its output without adding emissions.

"We are very proud to be able to bring solar energy to Bridgeport," says Ms. Steele. "This is a positive step toward more renewable energy for customers throughout New England."

About Emera Energy

Emera Energy (EE) is a wholly owned subsidiary of Emera Inc., a Canadian publicly traded energy and services company (TSX: EMA). The vast majority of Emera's investments are in rate regulated businesses, specifically electricity generation, and electricity and gas transmission and distribution, in Canada, the US, and the Caribbean.

Emera Energy comprises Emera's non-rate regulated businesses. EE owns and operates 1,700 MW of natural gas and renewable generation assets in Maritime Canada, and New England, and manages energy commodities and provides related energy management services on behalf of customers throughout Eastern Canada and the Northeastern United States.

Learn more at www.emeraenergy.com.