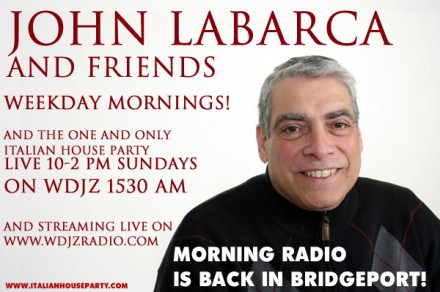 After a four-year absence from Bridgeport radio John LaBarca has returned as morning host at WDJZ radio as well his Italian House Party show Sunday morning. And wait, it gets better, guess who's following LaBarca with their own show Wednesday mornings at 10? Someone please call the radio police! Regular OIB posters Jim "Sonny" Fox and Tom Lombard will roll out their initial salvos about city politics starting Wednesday. Radio will never be the same.

WDJZ is located on the AM dial 1530 with offices in downtown Bridgeport at 211 State Street. It also streams live at www.wdjzradio.com. It specializes in leased-time radio. Want your own show? You buy the time and bring along your own sponsors. Fox and Lombard have landed Remo Pizza, 3777 Main Street Bridgeport, as their first sponsor. Hey guys, I know a bunch of sponsors that just bailed on Rush Limbaugh. They have slotted air time for the next four weeks for Wednesday at 10, starting with a half-hour show hoping to built more sponsors for additional air time. The Jim and Tom Show will focus on city politics. Both of them have been outspoken posters on OIB, particularly against the city establishment including Democratic Town Chair Mario Testa. Maybe Mario's restaurant will sponsor the show. If he sends over a dish of ziti better have a taste tester. Fox and Lombard also know what it's like to place their names on the ballot. Fox was an unsuccessful candidate for City Council last year and Lombard ran in the special election to fill the State House seat of Chris Caruso won by Charlie Stallworth.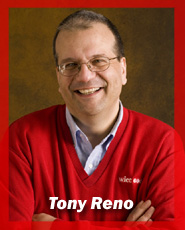 LaBarca has been a popular radio figure in the city for decades. He left radio station WICC in December 2007 after a tiff with station management, landing at a lower Fairfield County radio station that was purchased last year by Sacred Heart University. Tony Reno replaced LaBarca on WICC, filling both the weekday slot and his own Sunday Tony Reno Italian House Party show. The gregarious Reno has built up a nice following of his own. Now he and LaBarca are going head to head.