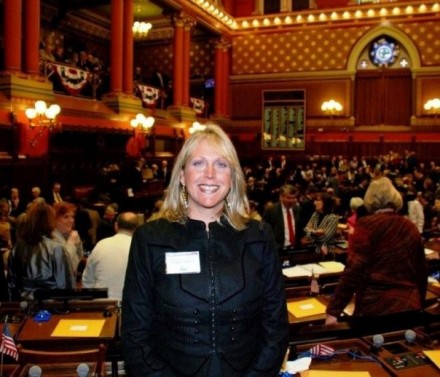 Auden Grogins, the blonde banshee from Black Rock, has been appointed to the State House leadership team. Grogins represents the 129th State House District that primarily covers Black Rock, the West End and the West Side. The five-month legislative session begins Wednesday. Banshee news release:
State Representative Auden Grogins (D-Bridgeport) proudly announced her appointment by Speaker of the House-designate J. Brendan Sharkey (D-Hamden) and House Majority Leader Joe Aresimowicz (D-Berlin, Southington) to serve in the position of Deputy Majority Leader for the Connecticut General Assembly's House Democrats.


The Deputy Majority Leader is responsible for aiding the Majority Leader with the review and development of policy, the analysis of critical legislation, and with the agenda of the majority party.

"I am very pleased that Rep. Grogins is joining our leadership team and will serve as a Deputy Majority Leader," Rep. Sharkey said. "She brings experience and a strong work ethic to the table that will serve us well."

"I am honored to serve in this leadership position," said Rep. Grogins. "I look forward to the upcoming session and will continue my commitment to focus on the needs of Bridgeport residents and all the citizens of our state."

Rep. Grogins will also serve on the Education, Planning and Development, Judiciary and Legislative Management committees.

The entire membership of the General Assembly will be sworn into office on January 9th at the State Capitol in Hartford during the opening day ceremony of the 2013 Session.

Rep. Auden Grogins represents the 129th district in Bridgeport.