After a brutally cold winter, what a weekend for mayoral candidates to walk, knock on doors and greet the peeps. State Senator Ed Gomes joined candidate Mary-Jane Foster at a barbershop for "a conversation in the West End on race," according to Foster's Facebook page.

Foster has the support of Bridgeport's two state senators, Gomes and Marilyn Moore. Following violent protests in Baltimore, conversations about race will be top of mind for mayoral candidates. Mayor Bill Finch plans to kick out a community outreach plan on the subject this week, former Mayor Joe Ganim has brought together clergy supporters and police union members for a discussion. Ganim and mayoral candidate Charlie Coviello were also at Saturday's community discussion organized by petitioning candidate for Mayor Tony Barr who says he pulled the forum together following police custody controversies.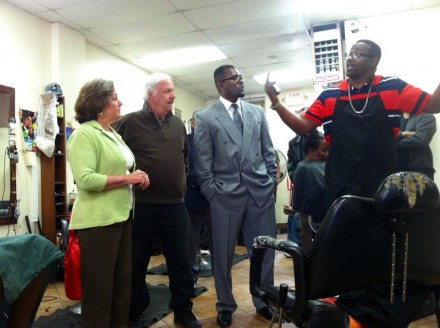 "It was a conversation for everyone," says Barr. "I was impressed with the number of candidates who participated."
Public safety will be a key battleground issue.