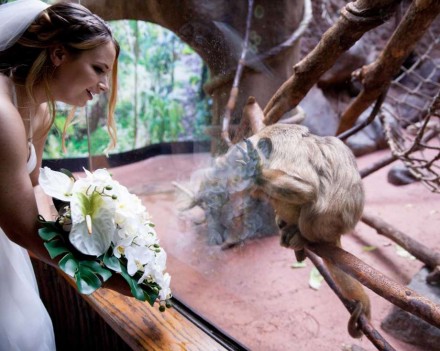 Bridgeport animal control officer Jennifer Merenda knows how to talk to animals. Even a howler monkey at Connecticut's Beardsley zoo where she married last September. The zoo is a hot place for parties and weddings. Hmmm, maybe an OIB party there soon?

From Christina Hennessy, CT Post:
"She was fascinated with my dress and bouquet," Merenda says. She and her betrothed, 29, were taking their pictures in the Rainforest Building at Connecticut's Beardsley Zoo in Bridgeport, where the large primates are housed, prior to their ceremony. "I put my hands up to the glass, and she put her hands up to mine. I just sat there and it calmed my nerves."

Throughout the night and the days that followed, the couple heard about other magical moments, discoveries and cool connections with the animals as the guests wandered the grounds that evening. It was what they hoped would happen.

"I wanted to avoid a cookie-cutter wedding, where you can't leave and everything exists in this one rectangle," says Merenda of a traditional banquet hall-style shindig. "I wanted to take each piece of the wedding and make it my own."

Merenda, who got engaged at Mystic Aquarium and who is Bridgeport's animal control officer, is perfectly suited to celebrate her nuptials at such a venue, but she is part of a growing number of couples looking for an unusual place to say "I do." They are finding the zoo, which is a first-time winner of the 2018 WeddingWire Couples' Choice Awards as a Connecticut wedding venue.
Full story here.