Good gravy, Sarah Palin, I take back everything I said about you. All of it. Every word. Now I realize why John McCain put you on the ticket. The red meat you dished out Wednesday night has its advantages, in more ways than one.
Anyone catch McCain's speech Thursday night?
Don'cha just love these two pictures of "Sarah?"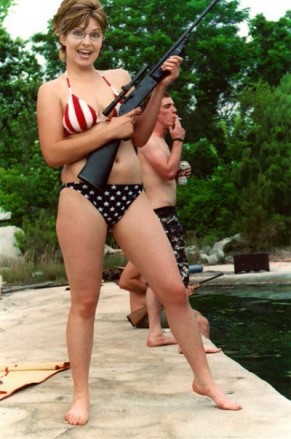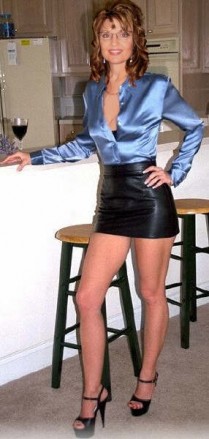 Lennie, get a grip. Okay okay, just when I thought we'd have a little fun with some Sarah photo exclusives, my cousin, who happens to be an expert in identifying phony photos, let the air out of my sails. "They're fakes, Lennie." But why should that stop us from showing you the phony versus the real thing? I'll let you decide. Wanna pull the trigger?
The following three pictures are real. A little Photoshop magic, and you too can try to embarrass your favorite candidate.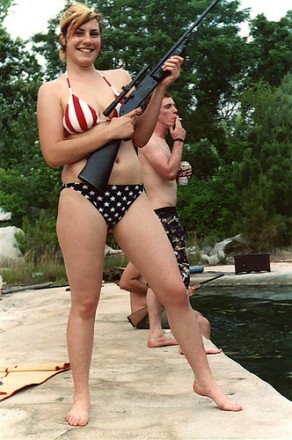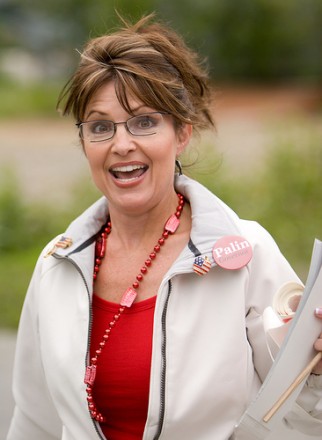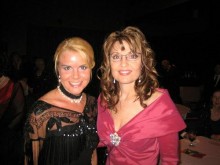 These aren't happy times for Mayor Bill Finch and members of the police union seeking a pay increase. A few weeks ago, picketing the mayor's golf charity event, members hurled unspeakable insults in front of children at the mayor which did nothing to help their bargaining position. They've decided to take a break. See Finch news release below:
City, Police Union Call for "Cooling Off" Period

Negotiations to Resume

Mayor Finch and the city's Police Union today announce they have entered into a "cooling off" period. A specific date had not been set, but good-faith negotiations could resume as early as next week.

The city and the department's union have been at odds for the past few months in light of the city's financial difficulties and the recent call for a reduction in police overtime.

"The city is eager to move these negotiations forward while being respectful of the officers' needs. Resuming discussions is in the best interests of the citizens of the city, and for all parties involved, in order to reach a resolution as soon as possible," said Mayor Finch.

The city's police union president Frank Cuccaro said, "The police union is looking forward to sitting down at the table with the city and moving in the right direction."
What's up at Himes HQ?
Is there a staff shakeup in Jim Himes' congressional campaign? Word is, with all the money being pumped into the race from Washington, the outsiders aren't thrilled with how the insiders are running the show. In addition, on a local level, a number of Bridgeport Democratic political operatives are concerned the Himes' campaign isn't doing more to bring them in. A bunch of them have complained to Democratic Town Chair Mario Testa that there's not enough effort to juice a huge turnout for Barack Obama that could carry in Himes. Local operatives always whine, no matter what the situation. You aren't doing this. You aren't doing that. Translation: pay me.
I don't miss those times when every gypsy, tramp and freeloader came to me for a payday. I've placed calls to the Himes' campaign to ask, but no official word. Hopefully, if there's a change, Himes' campaign manager Maura Keaney will stay on board in some capacity. She's worked hard trying to get to know all the players. Staff shakeups, on this level, are not unusual, especially when a race is winnable. Dems believe if they're ever going to take out 21-year incumbent Chris Shays, this is the year.
 School Progress
The Bridgeport Child Advocacy Coalition conducted a press conference Thursday to announce major improvements in several city schools. BCAC does a nice job as a watchdog for education issues. Staff generally doesn't sugar coat stuff. See results of a BCAC study in a press release below:
Five Bridgeport Schools Rise to the Challenge
Schools make substantial academic gains despite budget constraints

Bridgeport Child Advocacy Coalition (BCAC) has released its latest report that identifies the five Bridgeport schools that overcame tremendous hurdles to record substantial achievement gains over the last five years. The report also looks at their strategies for success.

Marilyn Ondrasik, Bridgeport Child Advocacy Coalition Executive Director, released the report, "Five Bridgeport Schools Rise to the Challenge," today. "Despite the challenges of huge budget cuts, large class sizes, lack of textbooks and instructional supplies, five schools excelled," Ondrasik said. "They are BCAC's Honor Roll of schools."

The five schools are Columbus, Beardsley, Hall, Hallen, and Winthrop. Two other schools, Read and Roosevelt, received honorable mention for notable improvement. This report represents the first of its kind for Bridgeport Public Schools.

"We have high expectations for every student," said School Superintendent John J. Ramos, Sr., at the press conference held jointly by the Board of Education and Bridgeport Child Advocacy Coalition. "Like most urban districts we have our share of challenges, but we are pleased that BCAC's report shines a light on what is possible with a committed effort by our administrators, teachers, parents/guardians and supporting community, who are truly committed to educating our children."

BCAC used a rigorous methodology to measure academic gains. It analyzed CMT and CAPT test scores over five years from the 2002 03 to the 2006 07 school year.

"We focused on schools with the greatest improvement rather than the highest performing schools," said Marge Hiller, Co Chair of the Task Force and Director of the Bridgeport Public Education Fund. "We thought the examples of schools with substantial improvement would have more meaning and show that all schools can make such significant improvements. In any one year, test scores can go up or down, but BCAC wanted to highlight those schools that showed substantial and sustained improvement."

The schools on BCAC's Honor Roll ranked first, second, or third of all schools in the study in improvement on CMT scores in both reading and math for all students or a racial subgroup of students.

"Teamwork proved to be a critical and common element in the five schools," said Hernan Illingworth, District PAC President and BCAC Task Force Co Chair. "Raising student proficiency takes the coordinated effort of principals, teachers, and students working with parents and the community. No school can make these kinds of gains without teamwork."

Besides teamwork and data teams, BCAC found that class size, school readiness, math and literacy coaches, and availability of tutors were among factors that made a difference in these schools' success.

"Each of these five schools has strong data teams that analyze student assessments and test scores to monitor student performance and shape teaching strategies," Illingworth said.

What other factors created success? At the Honor Roll schools, students and parents shared responsibility with teachers and administrators, and learning was fun. Community partnerships helped improve student achievement. All five schools have community partnerships with businesses, churches, civic organizations, hospitals or universities.

Key elements of the astounding improvement in the Honor Roll schools include:

o Two schools showed an increase of 40% MORE of their students reaching Proficiency and above over the five years.

o Two schools showed a decrease of more than 30% of their students in the lowest performing category, Below Basic.

o One school improved its test scores for African American students so much that no African American student scored at the lowest performing level, Below Basic, in 4th grade math.

o Two schools showed improvements for their African American students that exceeded the state requirements for 2006 07.

o And while national data shows 8th grade a particularly challenging time for students, one school showed significant improvement for its 8th grade Latino students.
Funding for this report came from the William Caspar Graustein Memorial Fund and The Perrin Family Foundation.

This report follows another education report, "Denied, Delayed, Diverted: Problems with Funding School Repair Projects in Bridgeport," from one year ago. That report found serious problems with the city approval and funding process for school repair projects that resulted in deteriorating Bridgeport schools. The Mayor and the Board of Education made changes this year to address concerns identified in BCAC's report.

The Bridgeport Child Advocacy Coalition is a coalition of organizations, parents, and concerned individuals committed to improving the well-being of Bridgeport's children through research, advocacy, community education and mobilization. The Task Force has worked for many years to publicize and address inequities in state funding for education distributed to Connecticut's cities and towns.