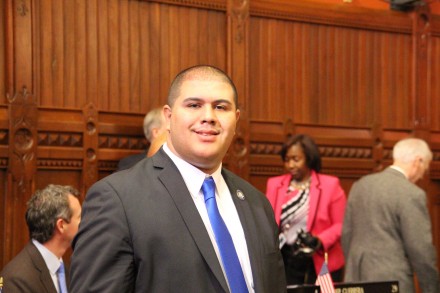 Bridgeport State Rep. Chris Rosario has been named chair of the Connecticut Legislative Black and Puerto Rican Caucus for the General Assembly session that convened on Wednesday.

"It is an honor to serve as Chair of the Black and Puerto Rican Caucus and to join colleagues to work on issues that are important to the communities we serve," Rosario said. "I look forward to reciprocating the confidence placed in me by serving to the best of my abilities for all of our constituencies."
The caucus was formed 40 years ago to promote minorities for public office and empower economic opportunity. As minority participation has grown in the legislature so too has the influence of the caucus.
Rosario has emerged as a political leader to watch in Bridgeport. The 128th State House District he represents covers the East Side and Hollow neighborhoods. He won the seat in 2014, defeating incumbent Christina Ayala and challenger Dennis Bradley in a primary on his way to a general election win. He was reelected two a two-year term in 2016. The seat had been occupied also by Andres Ayala with whom Rosario has a political alliance.
Bridgeport State Rep. Andre Baker was elected treasurer of the caucus.