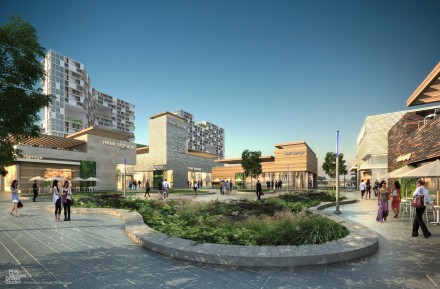 From the 16th floor of the 10 Middle Street high rise Downtown overlooking the East Side, Mayor Bill Finch and project developers announced on Wednesday Starbucks and Chipotle as the latest additions to Steelpointe Harbor joining Bass Pro Shops, the first announced anchor commercial tenant under construction, in the long-awaited redevelopment of the East Side.

This will be the first Starbucks in Connecticut's most populous city.
Bass Pro, the national retail chain's Bridgeport store featuring boats and outdoor supplies will be approximately 150,000 square feet when completed. Project developer Robert Christoph Jr. announced at a Wednesday afternoon news conference that construction has begun for Bass Pro with concrete scheduled for pouring next week. He added that construction for the newly announced tenants will begin in two weeks with a completion date for next fall.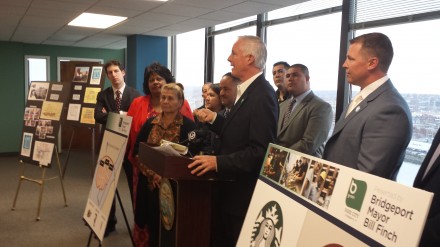 "The positive change is happening," announced Finch. "The Bass Pro foundation is going in … this is a big win for the city. Bass Pro, Starbucks and Chipotle, we're building a future here. Job creators around the country are looking at Bridgeport."
State Senator Andres Ayala recalled the days 18 years ago when he served on the City Council voting to approve eminent domain action to secure the site for redevelopment.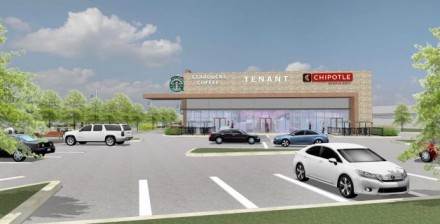 "The sacrifices are paying off," said Ayala who helped secure state funding for the project, adding the project has had many cynics because of the decades-long delays. "Is it ever going to happen? It's happening."
"Starbucks is a message that Bridgeport is a place people want to be," said City Council President Tom McCarthy.
Christoph added that "These tenants now see Bridgeport as a destination."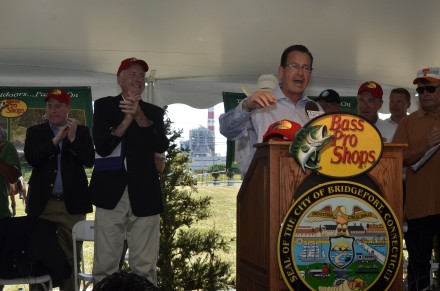 Financed with the aid of an $11 million federal grant, infrastructure improvements currently underway include a fully reconstructed Stratford Avenue, East Main Street, Pembroke Street, and Waterview Avenue as well as underground utilities and a base ground elevation that brings the peninsula outside of the floodplain, according to city officials.
Fully built out, Steelepointe Harbor is a 2 million square foot waterfront development project located adjacent to I-95, that will feature more than 750,000 square feet of retail, restaurants and entertainment.
In July, Finch signed documents completing the property transfer for the first phase of retail space at Steelpointe Harbor. The project's private developer, Bridgeport Landing Development, now controls the 12 acres of land to the north of Stratford Avenue needed for the construction of Bass Pro Shops and other retail establishments.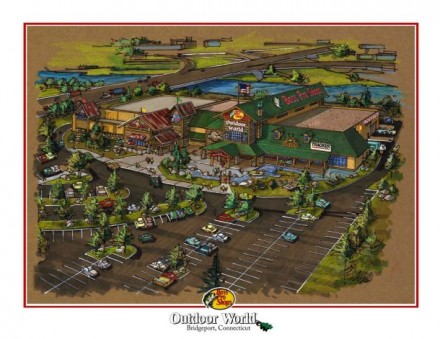 Steelpointe Harbor has been broken out into four phases of development, according to officials. The first phase of development includes everything north of Stratford Avenue with a retail focus. The second phase includes everything west of East Main Street, a mixed-use development including retail, hotel, and residential. The third phase of development includes the south side of Stratford Avenue and east of East Main Street, also a mixed-use development phase including hotel, office, and residential space with retail on the ground floor.
Officials emphasized that more than one million people live within a 30-minute drive of the development with an average household income of $122,000. The development also includes Long Island in its trade area serviced by the Bridgeport and Port Jefferson Steamboat Company that transports 800,000 passengers annually. The ferry service will be relocating from a Downtown terminal to a site adjacent to the eastern edge of the project. Ferry officials estimate an increase in its ridership to more than 1.4 million passengers within the next few years.
The Steel Point development area was first proposed by Mayor Lenny Paoletta in 1983 and has languished through a variety of developers and proposals.