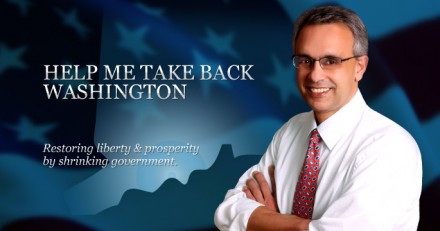 If you like your politics conservative, fiscally and socially, Rick Torres fits both.
Rick is a passionate pol who stirs passionate responses. He has qualified for the ballot to challenge GOP-endorsed State Senator Dan Debicella, a Bridgeport native, in an August primary the winner to face Fourth District Democratic Congressman Jim Himes. Rob Merkle, of Norwalk, founder of an executive search firm in Westport, has also qualified for the August primary. Merkle is a favorite of some Tea Party types, such as it is in Fairfield County. So who's Rick Torres?

(See a snapshot of his bio below.) Torres lives in Black Rock and operates Harborview Market, a popular neighborhood gathering spot. Rick toiled in Bridgeport Democratic politics for a while as an outsider. He was so outside as an establishment fighter that it was better to become a Republican. In 2003 he almost became mayor, losing the general election to John Fabrizi who had become chief executive following Joe Ganim's resignation following his conviction on corruption charges.
The early fall of 2003 was dicey for Democrats. The electorate was angry, Fabrizi had served as city council president while Ganim was mayor, Mario Testa was party leader. Fabrizi survived a tough primary against Caruso and others. As the general election closed in Republican and Democratic polls showed the race was even. That's not good for Dems who enjoy a major registration advantage. Testa decided it would be good to resign to take heat off Fabrizi. The editorial board of the Connecticut Post did not believe Rick had the right temperament to be mayor. A statement Rick made about the minority community lifting themselves up was interpreted as insensitive. Fabrizi won the election.
Rick did not go away, nor did his controversial swagger. In the summer of 2007 Rick, as the local GOP chair, endorsed Democratic State Rep. Chris Caruso, the mayoral primary challenger to party-endorsed Bill Finch, arguing the best way to cleanse the city's Democratic political system was to get behind the guy who'd powerwash it into the Pequonnock River. Local Republicans threw a fit over Rick endorsing a Dem and removed Torres as party leader.
When challengers emerged this year to take on Himes, former State Senator Rob Russo had the majority of the Bridgeport GOP support. Undeterred, Torres jumped in as well claiming the throne of conservatism. Russo's campaign never took flight, Debicella's fundraising efforts and district-wide campaigning propelled him to the party endorsement. Taking out Debicella is a tall task. He has money and organizational support. But he must safeguard his money for the general election. Torres has a history of whistling to his own tune. He won't go away quietly. He has been endorsed by economic guru Peter Schiff who's trying to slay GOP-endorsed Linda McMahon for the right to challenge Dick Blumenthal in November. www.ricktorres2010.com
From Rick Torres:
Rick Torres, who is running for the Republican nomination in Connecticut's 4th District, the seat currently held by Jim Himes, has issued the following statement on the Secretary of State's announcement regarding ballot qualifiers today. Torres is excited to have his ideas aired alongside those of fellow Republicans Robert Merkle and Dan Dibecella.

"This is going to be an exciting race and, I believe, a definitive race for the nation. The voters of Connecticut's Fourth have clear choices between a candidate who has as his base, the Republican establishment and a candidate who has the support of some of the louder voices in the Tea Party movement. In me they have a third choice: a candidate who derives his support from regular folks across the District who just simply want to be left alone to raise their families and run their businesses.

"I have struggled and fought from the time that my family fled Cuba and have risen from the oppression of the public housing system to have my name on a ballot for United States Congress. It is really quite an honor and I am happy that the voters had the faith in me to sign my nomination papers.

"It is an interesting year to be in a race. So many want to hold on to their power and others are just swinging wildly because they are angry. We need a reasoned dialogue with the people because it is their lives and their freedoms that are at stake here. Insiders must put aside their allegiances and some in the debate must tone down their anger. We need to come up with real solutions to restore our nation to her place as a shining light for democracy around the globe."

Torres, who was born in Bridgeport, moved back to his family's native Cuba when he was a young boy. It took his father five years after Fidel Castro came to power to secure permission to return to America's shores. In 1967, Rick and his brother were brought back to Bridgeport—with not much more than the clothes on their backs. The family lived across from the PT Barnum Public Housing Project and Torres worked his way through college in a series of construction trades jobs. He eventually studied for a PhD in microbiology but, like many folks, had to quit graduate school in order to support his young family.

Torres and Michelle, his wife of 27 years, started a series of small businesses, working double shifts for years. Eventually, they bought Harborview Market: a once thriving neighborhood store which had fallen on desperate times. Harborview is once again a successful business and was the site of today's press conference.

In 2003, Rick ran for Mayor of Bridgeport on the Republican Ticket. Prior to his Mayoral run, Rick took an active role in a number of neighborhood and community organizations, and ran for several local government offices. Rick and Michele have five children: John, Alex, Michael, Kaitlyn, and Gabbi. They live in Bridgeport.
From Tom Foley:
Former Massachusetts Governor William Weld Endorses Tom Foley for Governor

Stamford, Conn., — Former Massachusetts Governor William Weld today announced his endorsement of Tom Foley for Governor of Connecticut. William Weld was the highly respected Governor of Massachusetts from 1991 to 1997.

"I support Tom Foley for Governor," said Governor Weld. "I know from experience that it is possible to bring a state back from the brink of financial ruin if you have the right person in office. Connecticut needs a strong leader who is not part of the political establishment in Hartford to get the state back on track. Tom is that leader. He has a viable plan to turn the state around and the experience to execute it effectively."

The endorsement of Governor Weld, coupled with the most recent Quinnipiac Poll showing Tom leading his closest Republican rival by 27 points, shows that Tom's vision and plan for Connecticut are resonating with voters across the state.

Tom released the following statement regarding receiving Governor Weld's endorsement:

"I am very happy to have Governor Weld's endorsement. He is a problem-solver who became Governor of Massachusetts at a time when the state was in a position much like the one Connecticut faces now. Its bond rating was low, unemployment was high, and its state legislature was borrowing money to pay for its fiscal recklessness. Governor Weld was able to bring Massachusetts back from financial disaster by reducing expenses, improving the business climate, and bringing back jobs and the economy. That is exactly what Connecticut needs to do now. I have the experience, leadership, and plan to reduce our state government's wasteful spending, make us more employer friendly, and get Connecticut working again."
If it's Summer, Cougar Rodgerson and his crazy parties cannot be far behind. From Cougar: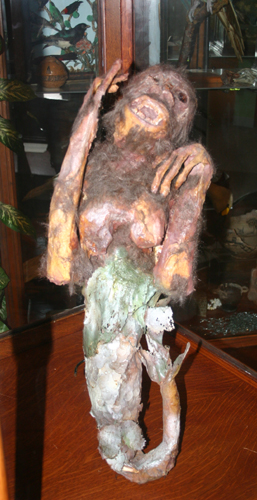 The Downtown Community Council presents …

The 2nd Annual Burning Clam Festival and Fiji Mermaid Pageant

"Last year we burnt a ham … this year we burn some clams"

THIS THURSDAY, 6-10pm on the Baldwin Plaza Green

-Pageant and Crowning of the 2nd Annual Fiji Mermaid for the Fiji Mermaid Promenade (parade is August 26th—but don't call it a parade or we'll get sued … again)

-Live entertainment-Fire Breathers and Eaters. Music: BLUDRUM, HUMBLE DINOSAUR + the Debut of the PARK CITY BURNING CLAM MARCHING BAND – Open Call for Members

-Bridgeport Critical Mass Bicycle Protest @ 6pm

-Viewing of the 1967 Elvis Classic "Clambake"

-Beach Blanket Bingo Fundraiser to help the DCC repair damaged and stolen equipment

-BYOC BBQ … VISIT OUR FRIENDS ACROSS THE RIVER AT 'BRIDGEPORT LOBSTER AND SHELLFISH' AND TELL THEM "I WANT TO BURN THE CLAM" for $5.00 off a $30 order! 288 KNOWLTON STREET www.bridgeportlobsterandshellfish.com

We are looking for more Fiji Mermaid Contestants and Marching Band Participants. Please email Keith Rodgerson @ downtowncommunitycouncil@gmail.com for more information or call 203-449-0619.
From Jenny Lind
The 62nd Anniversary of the Jenny Lind Concert,

Featuring the American and the Swedish contest winners in one evening!

On Thursday, June 24 at 7:30 p.m., the Barnum Festival proudly presents a concert at Playhouse on the Green in Bridgeport, CT featuring the American winner of the 62nd Annual Jenny Lind soprano competition, Jennifer (Jen) Caraluzzi of Bethel CT and the winner of the Swedish Jenny Lind competition Ashley Robillard. They will be accompanied by Andrew Gordon and Henrik Berg respectfully.

Tickets are $25 per person. Advance tickets will be sold at the Barnum Festival office or the Barnum Museum during business hours only through June 23. Tickets include a post concert reception and the opportunity to 'meet the Jennies' and their accompanists. Tasty deserts and coffee will be served by Luigi's Italian Pastry Shop.

In 1949, a competition was started to find vocal artists in both Sweden and America who were most representative of P.T. Barnum's Jenny Lind. Each year this concert marks the only time that the two winners perform, with their talented accompanists, at the same location. This Barnum Festival event has also received support from The Norden Club.

A native of Bethel CT (the birthplace of P.T. Barnum 200 years ago), 23 year old Jen Caraluzzi graduated from Bethel High school and then received her Bachelor of Music in Vocal Performance in 2009 from Western Connecticut State University (WCSU) in Danbury CT. She is currently pursuing a Master of Music in Vocal Performance at the New England Conservatory of Music in Boston MA. She was the Competition Winner and received the James Furman Memorial Music Award Endowment and was a two-time winner of the Schoolmasters Special Scholarship IMO Joel Kannangeiser. Additionally, Caraluzzi received a Music Award from the Connecticut Choral Society and has been a top place winner in the National Association of Teachers Singing Vocal Competition on three occasions. She performed in the Bay Area Summer Opera Theater Institute in San Francisco CA and the Opera festival di Roma in Rome Italy .

Caraluzzi has performed in numerous operas and musicals since 2005 at the New England Conservatory, WCSU, Ives Concert Park and more. She has played full roles as Zerlina in "Don Giovanni," Gretel in "Hansel and Gretel," Susanna in "Le Nozze di Figaro," Angelina in "Trail by Jury," Lucy in "The Telephone," Sonia the "The Merry Widow," and others. Caraluzzi's current teacher is Carole Haber; others who have guided her include Dr. Margaret Astrup and David Bender.

The American Jenny Lind competition was held on April 24 and Ms. Caraluzzi competed against 11 other talented sopranos. She was a semi-finalist in the 2009 competition. In addition to her $2,000 cash prize, in July Caraluzzi will travel to Sweden for a two-week concert tour.

The Swedish Jenny Lind Scholarship winner for 2010 is Astrid Robillard, a mezzo-soprano. Ms. Robillard, born in 1982 in Uppsala, grew up in the Swedish city of Härnösand. She was raised in a musical environment where she and her four siblings all played the violin, an activity they still enjoy doing together whenever the chance is given. She started her music studies at an early age and is now finishing her last year at the Opera Academy in Stockholm. Ms. Robillard has already had notable successes in operas in Sweden. In 2008 she received great reviews for her world premier of the Japanese composer Moto Osado's opera "Four night of dream" at the International Vadstena Academy. In 2009 she sang the role of Zulma in Rossini's "The Italian Girl in Algiers" at the Läckö Castle, a role that also was well noted in the Swedish press.

Robillard is a historical winner of the Jenny Lind Scholarship. Following 44 years of the prize being given to a lyrical soprano, she is the first mezzo-soprano to receive the scholarship.

Henrik Berg, the recipient of the 2010 Otto Goldschmidt Scholarship for a pianist, was born in the Swedish city of Rättvik. He started playing the piano at the age of eight and has since been studying at several Swedish conservatories. His diploma concert was as a soloist with the Swedish Radio Symphony Orchestra, playing the 2nd piano concerto by Béla Bartók.

Henrik Berg has received several scholarships from the Swedish Royal Academy of Music. His concert appearances have been both as a solo pianist, chamber musician and concert pianist with several Swedish orchestras.

Besides the piano, Henrik Berg plays the organ and the harpsichord. He also enjoys singing in choirs, where he is known to be a deep bass.

The Swedish scholarships are awarded by the Royal Swedish Academy of Music and the People's Parks and Community Center in Stockholm.

The pianist for the American Jenny Lind, Jennifer Caraluzzi, will be Andrew Gordon. A native of Boston, Mr. Gordon holds degrees in piano performance from the New England Conservatory and the Juilliard School, where he studied with Russell Sherman and Jacob Lateiner. Currently Director of Music at Diamond Hill United Methodist Church in Cos Cob, Connecticut, he is also the principal keyboardist of the Greenwich Symphony and appears regularly with the symphony's Chamber Players. Locally, he has also performed with the Greater Bridgeport Symphony and the Ridgefield Symphony Orchestra, and in 2007 was soloist with the Greenwich Symphony in Mendelssohn's Concerto in G Minor. He currently maintains a private studio in Redding, where he lives, and coaches voice majors at Western Connecticut State University. He is often heard as an accompanist throughout Fairfield and Westchester Counties.

As a singer, Mr. Gordon has performed in New York with Voices of Ascension, Musica Sacra, and New York Choral Artists, as well as in Stamford, Connecticut with Pro Arte Singers. For the latter two groups he has also served as accompanist. As a vocal coach, he participated in four seasons at Central City Opera in Colorado, and in the world premiere of Hugo Weisgall's The Gardens of Adonis for Opera/Omaha. This past season he also assisted in preparing one of the lead singers for the American premiere of Dona Flor by Niccolo van Westerhout.

Mr. Gordon's choral anthem An Evening Prayer is published by Oxford University Press.

In the 1850s, P.T. Barnum presented the beautiful Jenny Lind and her unique and glorious soprano voice to American audiences. The yearlong tour began with more than 40,000 people gathering at the docks in New York to greet Jenny Lind, no doubt lured by Barnum's press manipulation. Jenny Lind created a sensation during her tour of America and became known as "the Swedish Nightingale."

What: Jenny Lind Musical Evening Concert – Hear two Swedish Nightingales

Where: Playhouse on the Green, 177 State Street, Bridgeport, CT 06604

For directions to the theater please call 203-345-4800 or visit www.playhouseonthegreen.org

When: Thursday, June 24, 2010 at 7:30 p.m.

Who: Anyone interested in vocal music and supporting The Barnum Festival

Cost: $25 per person. Advance ticket sales through June 23 for $20 at either the Barnum Festival or Barnum Museum during business hours only.

Tickets will also be available at the door.

For tickets call: 203-367-8495 or toll free 866-867-8495 or at: www.barnumfestival.com