You gotta love City Attorney Mark Anastasi.
How does a lawyer spew BS? Mark shared his "legal" defense of Civil Service Commission President Eleanor Guedes' claimed bona fide residence in Bridgeport (even though she really lives in Trumbull).
Eleanor led the charge to fire former Personnel Director Ralph Jacobs who's challenging his termination in court.
The City Council's Miscellaneous Matters Committee took up the case of Guedes Monday night based on a resolution submitted by Councilman Bob Walsh that questioned her residency. Explained Mark, lawyer protecting client …
"Preliminary review of the facts and law has disclosed the following … commissioner Guedes would appear to satisfy both (requirements for residency). She is a registered voter of the city of Bridgeport and as I understand the facts is registered to vote in Bridgeport and only in Bridgeport. Also, commissioner Guedes has declared a residence in the city of Bridgeport. The Bridgeport address for Commissioner Guedes is 1425 Noble Avenue which is zoned residential and as I understand includes living quarters. Individuals can and commonly do have multiple residences."
The council committee tabled the resolution.
Look, Eleanor is a good person, runs a business in the city, pays her taxes, but when I asked her if she sleeps at 1425 Noble Avenue (her place of business) while owning a home in Trumbull she replied that she has multiple residences. Not exactly a persuasive answer.
The City Charter is clear. Members of boards and commissions must live in the city.
I don't have a problem with suburbanites sitting on boards and commissions if they own a business and pay taxes in the city. If you want suburbanites sitting on boards, well, change the charter. Open it up. How about a charter revision panel to look at that?
Reading Tea Leaves
Hey, have any friends heading to China this week?
Yeah, a 70-member local contingent is headed to the birth of tea as part of a Bridgeport Regional Business Council sojourn. City Council President Tom McCarthy is on the trip, as well as former Democratic Town Chair John Stafstrom. BRBC guru Paul Timpanelli has joined them. Gee, I wonder what kind of deals will be cut over tea and fortune cookies?
Any guesses? Let them fly.
Big Mac bagged Stafstrom to support Mario Testa for town chair in 2008. Mario's up for reelection in six months.
I wonder if they'll be drinking more than tea?
Correa's Bridgeport Connection
Mention Bridgeport at the Smithsonian and curator staff will say "Oh, yeah, Bridgeport." The Park City's contributions to the industrial revolution are well noted at the heralded DC museum. About 10 years ago I attended the opening of a permanent exhibit devoted to the city's sewing machine heritage. P.T. Barnum lured Elias Howe to Bridgeport and that triggered the city as the sewing machine capital of the world.
Rosa Correa has spent near a lifetime promoting all things Bridgeport. The Republican political leader, former director of the governor's Bridgeport office and current member of the Civil Service Commission, visited the Smithsonian recently to attend her first meeting as a member of the National Museum of the American Latino Commission, a federal group to study the potential creation of a National Museum of the American Latino.
Smithsonian staff directed her right to the Bridgeport exhibit when she mentioned her home city. See Rosa's thoughts below followed by news release and group shot of the commission.
It is a privilege to be among the 23 bi-partisan members of this Commission, which was chartered by Congress in 2008. The commissioners were appointed by President Obama, former President Bush, Democratic and Republican leaders in the U.S. Senate and House of Representatives. Commissioners represent regions from throughout the country.
I am grateful for the surprise and opportunity offered in September 2008 when Congressman Christopher Shays nominated me to this Commission. I joyously accepted the appointment to this Commission by House Minority Leader John Boehner. I will reach out to people in the arts, elected officials, business people and key stakeholders to seek their advice and counsel on topics we will explore for the report to Congress that the Commission is charged with creating.
It is important to note that while in D.C. for the first meeting of the Commission, we were invited to The National Museum of American History for a welcoming celebration. An unexpected surprise awaited me when one of the curators upon hearing that I was from Bridgeport, Connecticut invited me to visit an exhibit that depicts three industrial cities, Charleston, South Carolina, Cincinnati, Ohio and my beloved Bridgeport. It was awe-inspiring when I saw the familiar sites and was reminded that often the journey that takes us away from home brings us back home where our creativity, skills and ideas were cultivated. Among all the activities, I cherished this moment and hope that Bridgeport residents will feel proud that our city has a permanent exhibit at a Smithsonian Institution.
News release:
National Museum of the American Latino Commission Holds Inaugural Meeting

Washington, DC — A federal commission to study the potential creation of a National Museum of the American Latino met for the first time on September 18 and 19, 2009 in Washington, D.C.

The bi-partisan Congressional Act that created the commission was signed into law by President Bush and held its first meetings under President Obama. The Commission consists of 23 members appointed by the President and the Majority and Minority Leaders of the U.S. Senate and the U.S. House of Representatives.

The Commission will study the potential of a national museum in Washington, D.C. dedicated to the art, culture, and history of the Latino Community in the United States. A report outlining a plan for the museum is to be submitted to Congress and the White House within two years of the first meeting of the Commission.

The White House appointees include: Dr. Gilberto Cárdenas of Indiana, Emilio Estefan of Florida, Dr. José B. Fernández of Florida, Andrés López of Puerto Rico, Cindy Peña of Colorado, Abigail M. Pollack of Florida, and Cid Wilson of New Jersey. Senate Majority Leader Harry Reid appointed Moctesuma Esparza of California, Carlos Ezeta of Nevada, Susan Gonzales of California, and Dr. Emma Sepúlveda of Nevada.

Senate Minority Leader Mitch McConnell appointed Dame Sandy Colón Peltyn of Nevada, Ellie López-Bowlan of Nevada, Dr. Eduardo J. Padrón of Florida, and Sean D. Reyes of Utah. Speaker of the House Nancy Pelosi appointed Luis R. Cancel of California, Lorraine García-Nakata of California, Eva Longoria Parker of Texas, and Henry R. Muñoz III of Texas. House Minority Leader John Boehner appointed Nelson Albareda of Florida, Rosa J. Correa of Connecticut, Dr. Aida Levitan of Florida; and Danny Vargas of Virginia.

Members were chosen for the Commission based on qualifications in museum administration, expertise in fundraising, experience in public service, and demonstrated commitment to the research, study or promotion of American Latino life, art, history, or culture.

Congressman Xavier Becerra of California authored the bill and introduced it in the U.S. House of Representatives and Senator Ken Salazar of Colorado, who now serves as Secretary of the Interior, presented it in the U.S. Senate. The bill was co-sponsored by Republicans and Democrats in both chambers and was signed into law in May 2008.

Secretary Salazar, speaking about the first meeting of the Commission, stated, "The National Museum of the American Latino Commission is a select group of Americans that have been called upon to provide a plan for a national museum that preserves and shares a vital part of our nation's heritage for the benefit of all people interested in the richness of the American experience."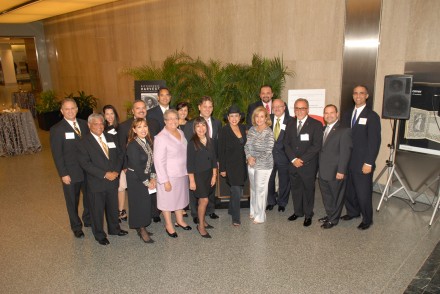 Rosa Correa center left spiffy in tea rose