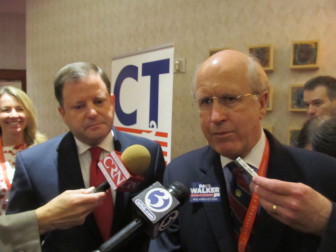 Republican gubernatorial candidate State Senator John McKinney has chosen Bridgeport resident David Walker, the former U.S. Comptroller General, to serve as his running mate as Republican delegates on Saturday endorsed 2010 nominee Tom Foley for governor at Mohegan Sun. McKinney entered the convention in a fragile position with delegates to secure the 15 percent support needed to qualify for the ballot. McKinney fell short of delegate support on the initial balloting, but delegate switchers from Bridgeport, Shelton and Stamford put him over the top. The Walker alliance helped to sway delegates McKinney's way. Former State Senator Rob Russo, McKinney and Walker worked various delegations to place McKinney's name on the ballot for an August primary.

Foley's political operation also directed delegates to switch votes to McKinney in the belief a three-way primary is beneficial to Foley who fears a two-way race with Danbury Mayor Mark Boughton who also qualified for a primary would generate a blood bath prior to the general election. Be careful what you wish for.
In primaries candidates for governor and lieutenant governor technically run on their own accord. Primary winners run as a joint ticket in the general election.
"Everywhere Dave Walker has gone he has made government more efficient," McKinney told delegates as he placed Walker's name into nomination at the convention. "We need someone who can be a full partner with the governor."
The McKinney-Walker alliance also allows them to pool resources to help McKinney qualify for a $1.3 million public grant for the August primary.
State Rep. Penny Bacchiochi, who received the endorsement for lieutenant governor by the slimmest of margins on Saturday, kicked up the rhetoric on Thursday claiming the Walker campaign had raised her biracial marriage as an issue. Walker fired back quickly saying it was a concocted charge by a desperate candidate losing support. Bacchiochi retreated from her claims that Walker himself has said anything, and apologized to Walker.
Shelton Mayor Mark Lauretti is also in the race but failed to receive enough support to qualify for a primary. Lauretti has announced he will petition his way onto the ballot. Republican candidates wishing to petition onto the primary ballot for statewide office require the signatures of 8,190 registered Connecticut Republicans.
Supporters of McKinney, the Senate minority leader, argue he is best equipped to defeat Democratic Governor Dan Malloy–who was nominated by acclamation at the Democratic Party convention Friday night in Hartford–in the general election. McKinney is a moderate who could appeal to the majority bloc of unaffiliated voters who sway statewide elections. He supported gun control legislation advanced by Malloy following the school tragedy at Sandy Hook that is included in McKinney's Senate district. His support has created a scratchy relationship with Republican delegates opposed to gun control. McKinney insiders believe GOP delegates are disconnected from Republican primary voters, especially women placing a premium on protecting children.
Whether as a government employee or now a fiscal watchdog, Walker has prided himself on challenging government spending and misplaced priorities leading to budget deficits.
Last December Walker told OIB, prior to his formal candidacy, he could be a partner in restructuring state finances. Walker had contemplated a run for governor, but decided there wasn't enough time to qualify under the state's labor-intensive Citizens Election Program of publicly financed races. Under the program, candidates for governor must raise $250,000 in donations between $5 and $100 to qualify for a public grant. Candidates for Connecticut's other constitutional offices must raise $75,000 in small donations to receive a lesser grant. But the money Walker has raised can be combined with McKinney's fundraising to put McKinney's fundraising mechanism over the top.
Walker has made it clear he's not interested in a ceremonial position. He says he's hopeful for a partnership with a successful candidate for governor who will put his financial background to work in reshaping state government.
Prior to his candidacy, Walker had been a visible presence at City Council meetings urging members of the budget and legislative body and Mayor Bill Finch to implement financial reforms, particularly in the areas of pension restructuring, health care and debt burden.
He has spoken often about Connecticut having "the highest liabilities and unfunded pension and retiree health care promises per taxpayer of any state in the union."
Walker, a CPA, was a founder of the political action committee Citizens Working For A Better Bridgeport that raised money and supported candidates in last September's Democratic primary and November general election for school board and City Council seats.
Walker moved to Bridgeport in 2010, purchasing a home in Black Rock from former Congressman Christopher Shays. Appointed by President Bill Clinton, Walker served as Comptroller General of the United States and head of the Government Accountability Office from 1998 to 2008. His service as the federal government's chief auditor spanned Democratic and Republican administrations. He was also an appointee of Presidents Ronald Reagan and George H.W. Bush.