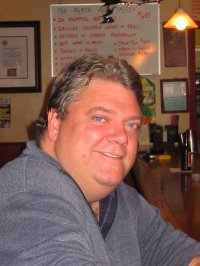 We all struggle with our demons; the good in us, the bad, the difficult. Sometimes we win and carry on. And sometimes we check out far sooner than the potential allows. OIB friend Rob Sullivan struggled mightily and openly with his demons, rehab for long stretches at a time, resuming an on-and-off writing life to capture an assortment of personalities in the state's largest city the past couple of decades. To those who knew him all you had to say was "Sully." We knew what that meant. Sully and his gregarious smile. He passed away on Saturday, according to this obituary from his hometown newspaper. He was 54. A cause of death was not included in the obituary.

Rob Sullivan was a regular reader of OIB, occasionally chiming in on the OIB comments section over an assortment of issues. He was always among the first to recognize the best in the passing of a person such as this comment December 12, 2014 following the death of former journalist John Gilmore, a contributor to OIB.
I am shocked and saddened by the death of John Gilmore. He helped me in every phase of my career up to and including my recent literary aspirations. I will just tell one story. I was editor of the Bridgeport News for a short time and he called and said he wanted to meet. Basically, he wanted to kick my ass. He felt I was too deferential to the powers that be and too talented to be writing a bunch of feel-good stories. He was a good friend and a great writer. I loved the fact he wrote his novel and he did tell me he was writing another. I hope he completed that book. It would be a great and fitting legacy for this man. My sincere condolences to all on this tragic news.
Sully enjoyed writing about the underbelly of the city including in his book Political Corruption In Bridgeport. He could be generous with compliments and he could be a tough critic. But often he was toughest on himself. "I am an addict," he'd say when asked about his struggles, a nod of recognition to friends who'd help him. And he'd check in to provide updates on his state of health. Sully who lived in several city neighborhoods including Black Rock and North End used public transportation to attend city functions, a laptop under his arm, a coffee shop Wi-Fi to connect to his readers at the Bridgeport Banner on-line news site.
Sully loved being a Bridgeport reporter.
From Sully's obituary:
He was born in Worcester son of the late John and Marilyn (Johnson) Sullivan. He leaves two sisters, June Eressy and her husband Michael and Nancy Buniowski, both of Worcester; also survived by five nieces, two nephews; and his dear friends Geri and John Whitlock of Fairfield, CT. He was predeceased by a brother, Jack Sullivan and his brother-in-law Steven Buniowski.

Rob was a graduate of Saint John's High School and Fairfield University. He worked as a journalist for many years and served as the editor of the Bridgeport Banner. His book Political Corruption in Bridgeport was published in 2014.

Rob loved politics and was an avid fan of all Boston sports teams. Above all, he was a man of great faith and was a devout Catholic.

Relatives and friends are invited to attend a funeral Mass celebrating Rob's life on Friday, June 16, 2017 at 11:00 am at Saint Mary's Church, 640 Main Street, Shrewsbury. Burial will be private at a later date. To leave a note of condolence for Rob's family or to view his Book of Memories, please visit www.brittonfuneralhomes.com.