Bridgeport has had 52 mayors, all of them white males except for one … Mary Chapar Moran. Elected the city's chief executive 25 years ago, her one two-year term is best known for placing the city into federal bankruptcy court, a petition challenged by the state and rejected by a federal judge.

Moran, a Republican, defeated two-term Democrat Tom Bucci in 1989 after he sought state financial assistance when the city's budget blew up in 1988. For the privilege of leveraging $50 million in state borrowing power to cover deficits, a projected shortfall and provide a reserve, the state tasked Bucci and the city with some tough medicine, a financial review board to ensure budgets were in balance. A real estate agent by profession, Moran was a spellbinding personality who had defeated former Republican Mayor Lenny Paoletta in a close primary before dispatching Bucci.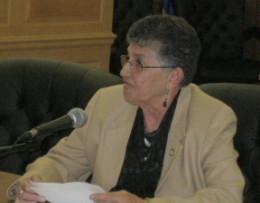 Butting heads with the review board and Governor Lowell Weicker, Moran petitioned the federal court with a bankruptcy filing in June of 1991 in an effort for a fresh start. Wall Street and local banking interests opposed the move.
Moran only lasted one term, but there was nothing boring about her two years. It even attracted interest from the news magazine show 60 Minutes whose profile of Moran is reproduced.
OIB contributor Jim Callahan, then the editor of the community weekly newspaper the Bridgeport Light, is included in the Harry Reasoner piece. Check it out.
Moran was defeated by Democrat Joe Ganim in 1991. Now 80 years old, Moran recently retired from government service as the tax collector for the town of Trumbull. She is also featured in a current television commercial by Republican gubernatorial candidate Tom Foley.
Regular OIB poster Steve Auerbach worked for her administration.