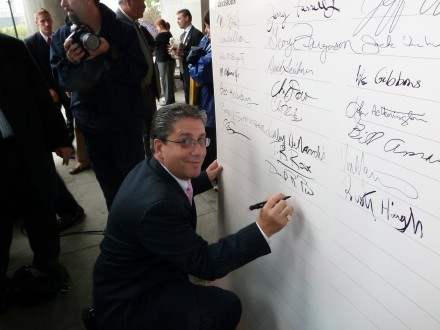 From Republican State Senate candidate David Pia. (His incumbent opponent Anthony Musto weighs in under comments.)
Legislative Platform Includes 7 Bills to Create Jobs, Reduce Government Spending and Balance the Budget

HARTFORD – state senate candidate David Pia joined Republican legislative leaders and candidates from across the state to sign the "Common Sense Commitment to Connecticut" pledging to support a seven-point legislative agenda of smaller government, lower taxes and economic policies to create jobs.


The Commitment is rooted in fundamental American virtues and the tenets of the Constitution. The Common Sense agenda is founded on such principles as "Spend No More than You Make," and "Borrow No More Than You Can Afford to Pay Back."

"State government has become too big and is too intrusive in our daily lives. By signing the Common Sense Commitment, I am making a promise to the people of the 22 senatorial district that I am committed to changing the direction of our state and reversing the recent trends of job losses, out of control government spending and record budget deficits. This pledge is a detailed, responsible and realistic plan for reorganizing state government and creating jobs that directly reflects the common sense principles of my neighbors in the 22 District," said David Pia.

"We have had enough of the tax, spend and borrow platform. It is time to get serious about reducing the size and cost of state government."

The principles of the Common Sense Commitment include:

• Spend No More Than You Make
• Borrow Only What You Can Afford To Pay Back
• If It's Not Broken, Don't Fix It. But If It's Not Working, Get Rid Of It
• The More Government Tries To Do, The Less It Does Well
• Government Doesn't Create Jobs, People Do
• All The Government We Need, But Only The Government We Need
• Empower Local Governments To Make Local Decisions

For more information visit www.commonsensecommitment.com.