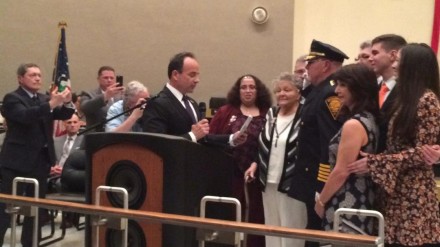 Mayor Joe Ganim on Tuesday announced that Acting Chief AJ Perez, Captain Roderick Porter and New Haven Assistant Chief of Police Luiz Casanova are the top three finalists to receive a five-year contract as Bridgeport's top cop.

According to Ganim five professionals in the field of police and municipal government served on a panel that conducted interviews Oct. 19 from a list of seven semifinalists. The Department of Civil Service hired executive search consultant Randi Frank to assemble the police chief search panel: Hartford Police Chief David Rosado, Yale University Police Chief Ronnell Higgins, municipal human resource official Bernadette Welch, UConn Health Labor Relations Director Caroline Beitman, and former Hartford City Manager Lee Erdmann. The panel short-listed the search to three.
"I am pleased with the nationwide search and selection process for police chief," says Civil Service Director David Dunn. "We saw as many as seventeen valid applicants from across the country and have taken great measures to ensure a fair and competitive process. Bridgeport will be served well."
In a City Charter revision about 30 years ago, voters empowered the mayor to select a chief from three finalists for a five-year contract that can be renewed for another five years maxing out at 10.
A few months after Ganim's return to the mayoralty in December 2015, he placed his long-time friend Perez in charge of the department. Chief Joe Gaudett was public enemy number one to the numerous members of the police union that supported Ganim's race both financially and with boots on the campaign ground. Ganim promised his cop supporters that he'd jettison Gaudett. But Ganim's predecessor Bill Finch, in one of his final moves as mayor, gave Gaudett a second five-year contract. Rather than buying out Gaudett's hefty contract Ganim hammered out an emergency services consulting agreement with Gaudett opening up the chief's slot and elevating Perez, who was a captain, to acting chief.
Ganim was slow to initiate the charter-required search for a chief keeping his friend Perez in charge for more than two years until directing a process this year following numerous calls from the community.
The genial Perez has both his supporters and detractors. To some he's considered an accessible neighborhood figure responsive to concerns. For others he's a dubious manager who's allowed the police overtime budget to run amok.
In addition to Perez's friendship and loyalty to Ganim, another factor that could aid a five-year appointment is the current violent crime rate. The city has experienced just seven murders this year which if it keeps on pace would be the lowest since the city began keeping records for homicides more than 40 years ago.
There's also a political calculation for Ganim. What chief does he want in place as he seeks reelection in 2019? Ganim is expected to announce a decision within a few weeks.
Casanova is suing New Haven in federal court, claiming he was passed over for chief and has been subjected to harassment due to his testimony on behalf of another officer who had filed a discrimination complaint with the state.
More than a year ago New Haven Police Chief Anthony Campbell requested an internal affairs investigation of Casanova and temporarily removed him from his responsibilities overseeing the training academy.