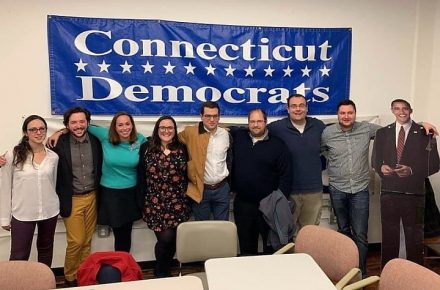 "The only negro they could find was cardboard," said Scot X. Esdaile, president of the Connecticut NAACP.
Legitimate gripe? Or much ado about nothing? Why is Esdaile calling Obama a negro?
Statement from Connecticut Young Dems Facebook page
The leadership of CTYD sincerely apologizes for the tone deaf photo taken last night after our November meeting and special election of new president. The photo was only of a few of the current and outgoing executive board members, not the entire team, and does not represent the diversity of the executive board nor the diversity of CTYD and our local chapters across the state. While this is a very unfortunate and embarrassing circumstance, it presents an opportunity for us to more actively recruit young Democrats of color to become members of the organization and serve in leadership positions. The time to get involved is now!

The following positions on the executive board are currently open:
Vice President, Finance (fundraising)
Treasurer
Secretary
Deputy VP of Communications
National Committeewoman (rep to YDA)

Last night's special election was to fill only the President's role when a vacancy arose. The regular election will be held in April providing the opportunity for new candidates for each position on the executive board.

In the interim, if you have any questions or concerns, please feel free to reach out to us on Facebook or via email at ctyoungdemssecretary@gmail.com or directly to CTYD President Constance Vickers at ce.vickers90@gmail.com
From Paul Bass, New Haven Independent:
A photo taken to mark the ascension of a "Young Democrats" leader has kicked up some racial blowback.

The photo, posted Wednesday on social media (and since removed) by an outgoing member of the Connecticut Young Democrats, was taken at a meeting to elect a new chapter president. It showed members of the leadership present at the time. All the people pictured were white.

Except one: ex-President Barack Obama.

Obama wasn't there in person. And he's not a member of the Young Dems executive board. Rather, the group posed with a life-sized cardboard cutout.

Before the photo was taken down, it made swift rounds among political leaders of color.

"Everybody has been texting it to me all morning," said state NAACP President Scot X. Esdaile.

He called the posting of the photo a "slap in the face" indicative of "clear racism going on in the Democratic Party."

"It looks like the only black they can find is a cardboard Obama. That's the perception of it. The disingenuous part is that during the election cycle, they were at all of our churches. They were putting up signs throughout our community. All of our organizations. They can find us during election season. As soon as election season is over, they can't find us," Esdaile said.

… (Bridgeport resident) Constance Vickers, who was elected as the Connecticut Young Democrats' new president at Wednesday night's meeting at state Democratic Party headquarters in Hartford, called the affair an "embarrassing misunderstanding." It was a special meeting called to elect a new board president because the previous president, Kim Glassman, had resigned. (She had turned 36, aging out of the role.)

Present and past board members who were still around after the meeting posed for the photo, Vickers said. It turns out that four of the board's nine members are people of color, she said, but they happened not to be around at the time.

"The cardboard cutout–that was an absolute mistake," said Vickers, a 28-year-old fundraiser for nonprofit organizations. "We have a cutout of Obama and Bernie [Sanders] that we use at a lot of events. We should not have used that photo. It was embarrassing for me and for the board."
Full story here.