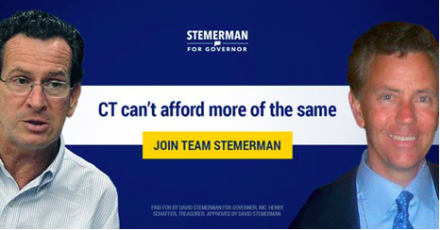 One is a scion of Thomas W. Lamont, an early chairman of J.P. Morgan & Co., the other a hedgie who crows about dumping $10 million of his own money into the August primary. What happens when two loaded Greenwich guber candidates show off their money manhood on Twitter? Democrat Ned Lamont and Republican David Stemerman fenced the other day about their fiscal fitness.


Both Lamont and Stemerman–get ready for a lot more–have raised the specter of Connecticut's two most unpopular pols, Donald Trump and Dan Malloy.
Hartford Courant reporter Neil Vigdor chronicles the Twitter tussle with Republican-endorsed Mark Boughton getting in on the action.
"Woah! @DavidStemerman back from a vacation on Fantasy Island. Glad to see your return to reality. Still patiently waiting on plans @MarkMark and @bobforgovernor," tweeted Lamont, the endorsed Democrat for governor.

That's when Stemerman, who shuttered his Conatus Capital hedge fund to run for governor, shifted his focus to Lamont instead of his primary opponents.

"Weak! The @hartfordcourant noted I was the only candidate with a plan to save Connecticut," Stemerman fired back on Twitter. "But we already know what your plan is — TAXES and TOLLS! We can't afford 4 more years of Malloy / Lamont policies. #MalloysThirdTerm @CTGOP @GOP @The_RGA."

That's when the real fireworks started, with Lamont citing a Courant report last month that Stemerman's U.S. hedge fund holdings shrank from $2.6 billion to $1 billion just before he told investors last year he was shutting down his business to run for office.
Full story here.