The chatter and juniper were flowing at the OIB party at the Bridgeport Holiday Inn. Lots of discussion about State Comptroller Nancy Wyman agreeing to serve as running mate to Democratic gubernatorial candidate Dan Malloy.

We had Malloy supporters at the party such as Mary-Jane Foster, vice president at the University of Bridgeport and Ned Lamont fans including Democratic Party Vice Chair Dottie Guman, a bunch of GOP supporters of leading Republican guber candidate Tom Foley such as Trumbull First Selectman Tim Herbst. And State Rep. Auden Grogins, the blonde banshee from Black Rock, popped in as well. Hey Audie who are you supporting? Sounds like she's leaning Malloy. Democratic State Senate candidate Marilyn Moore hasn't committed to a guber candidate yet. She's busy schmoozing delegate support to qualify for a primary against Dem incumbent Anthony Musto. Marilyn says she's prepared to secure petition signatures to qualify for the ballot if the delegate support isn't there.
And there was a lot of discussion too about the Bridgeport city budget, specifically how successful will Mayor Bill Finch be in securing millions in union givebacks from city employees who feel they've given plenty already. The mayor has said he'll forgo a raise this year in his zeal to win union concessions. It's not going to be pretty. The chatter in the room from many city employees current and former agreed that union leadership will dig in for a fight. If that's the case how deep will the mayor go to execute layoffs to achieve the savings?
A mega battle brewing is on the Board of Education spending side where BOE officials are seeking major givebacks from city teachers to maintain a flatline budget for the spending year that begins July 1. Fasten your seatbelts.
Scenes from the OIB party …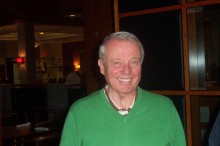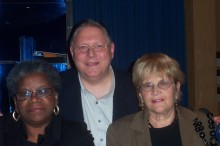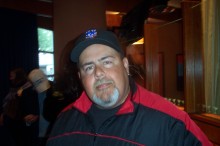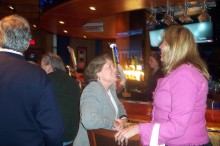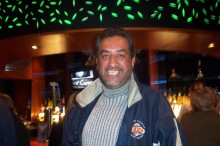 New Plantings For Saints
Police are searching for the hooligans who destroyed trees along the walkway at St. Mary's. Some good folks have stepped up to help out. News advisory from Mayor Finch:
Local Nurseries Donate Trees to Plant at St. Mary's by the Sea

WHAT: Five London Plane trees, which were donated by local nurseries to replace some of the trees that were vandalized during the March 13 storm, will be planted along the walkway on Gilman Street/Eames Boulevard. The trees were donated by Gilbertie's of Westport and Oliver Nurseries of Fairfield.

WHO: Mayor Bill Finch; Carrie Gilbertie of Gilbertie's of Westport; members of the community; parks department representatives

WHERE: Gilman Street/Eames Boulevard in the Black Rock section of Bridgeport, CT 06605

WHEN: Thursday, May 13, 2010, 9:30 a.m.

ABOUT: Fifteen sycamores (a similar tree to the London Plane tree) that line the greenspace along St. Mary's by the Sea were vandalized during a late-winter storm. Four of the trees were removed by City parks staff because they were in danger of falling over. Local nurseries donated five trees to replace the small trees. An investigation into the vandalism continues, and anyone with information regarding the destruction of the trees is asked to call the Bridgeport Police Detective Bureau at 203.581.5201.
From Dan Malloy:
SEIU 1199, 32BJ ENDORSE MALLOY FOR GOVERNOR

State's Largest Health Care and Building Services Unions Back Malloy

SEIU Healthcare District 1199 and SEIU 32BJ have endorsed Dan Malloy as Connecticut's next Governor. The unions' executive boards each voted unanimously to back Malloy, stressing his track record of accomplishment and partnership with Connecticut's working families. Union leaders said they will "work tirelessly to ensure Dan Malloy is our next Governor."

SEIU Healthcare District 1199 is Connecticut's largest labor union of health care workers, with over 20,000 professional and paraprofessional caregivers working in public and private hospitals, nursing homes, clinics, non-profit agencies, residential facilities and other health care settings throughout Connecticut.

"Dan Malloy has a proven track record of putting people first," says Carmen Boudier, President of SEIU Healthcare District 1199. "The next Governor will make major decisions affecting the quality of health care jobs and services for all of Connecticut. As Governor, Dan Malloy will help health care workers provide the best possible care for our patients and the best possible lives for our families."

With 120,000 members on the East Coast—including 4,500 in Connecticut—SEIU 32BJ is the largest property service union in the country. The union represents commercial cleaners, security officers, property service workers and food service employees throughout the state.

"In tough economic times, we need a Governor that will stand up for Connecticut's working families and create good, middle-class jobs," said Kurt Westby, Connecticut Director of SEIU32BJ. "Dan Malloy is the best candidate to do that because he has the experience and values our state needs."

Westby continued, "Ten years ago, Mayor Malloy stood with janitors in Stamford to help raise their families out of poverty by forming a union, and we've seen that commitment to creating good jobs continue to this day. Last year, he fought to ensure that thousands of Connecticut's children kept their health care coverage. This year, he has been on the forefront of fighting for paid sick leave standards."

Additional labor groups supporting Malloy include the Communication Workers of America Local 1298, the International Union of Operating Engineers Local 478, the New London Police Union (AFSCME Local 724), and the Hartford Police Union.

"It's an honor to have the support of so many working men and women throughout the state," said Malloy. "Connecticut's workers are the backbone of our economy, and the fact is recent Governors simply haven't treated them with the respect they deserve. As Governor, I look forward to partnering with the men and women of SEIU Healthcare District 1199, SEIU32BJ, and the thousands of other workers across the state."

As a candidate for Governor, Malloy has traveled the state in recent months sharing his ideas for moving Connecticut forward. To date, his campaign has been endorsed by 39 Democratic Town Committees, 50 DTC Chairs, more than 100 elected officials and community leaders. His campaign also has the support of more than 4,000 individual contributors who helped Malloy become the first gubernatorial candidate to qualify for the Citizens' Elections Program, giving him access to up to $8.5M for his campaign.