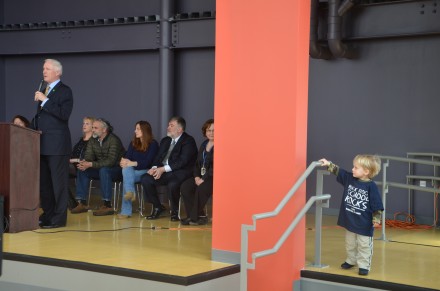 Mayor Bill Finch on Saturday was joined by state and city officials, community leaders and parents for the grand opening of the renovated Black Rock Elementary School that includes a dedicated bus drop-off, new pre-k and 1st grade classrooms, a new multipurpose room and outdoor play area, and administrative offices.

Mayoral spokesman Brett Broesder says the Black Rock School renovation is part of more than $700 million invested in school construction since Finch's election in 2007.
"Once complete, our school construction program will have created more than 3,000 jobs in Bridgeport," says Finch in a news release. "And, more than half of our public school kids will attend a new or newly renovated school, ensuring more and more kids are learning in the right environment.
Saturday's event included Interim Superintendent of Schools Francis Rabinowitz, Superior Court Judge and former State Rep. Auden Grogins, State Rep. Steve Stafstrom, City Council President Tom McCarthy, City Council members Susan Brannelly and Enrique Torres, Board of Education Chairman David Hennessey, Board of Education member Joe Larcheveque, Black Rock School Principal Karen Helyer, and Black Rock School Parent Advisory Council (PAC) President Mandi Jennings.