Government, business and neighborhood supporters of MGM's proposal for a $675 million waterfront gaming destination gathered on Tuesday to reassert they will continue the battle for an open, competitive process during the January, 2019 legislative session.

News release from Mayor Joe Ganim:
Mayor Joe Ganim today joined state legislators from Bridgeport and Stratford, as well as Bridgeport city council members, regional business leaders, and representatives from members of MGM International and Bridgeport Landing Development to reaffirm their collective commitment to passing a law to bring open, competitive gaming licensing to Connecticut. Doing so could potentially bring 7,000 jobs to Bridgeport if a plan by Las Vegas based MGM International to build a $675 Million resort casino on the Bridgeport waterfront becomes a reality. In the just concluded 2018 Connecticut General Assembly legislative session, Bridgeport lawmakers and a bipartisan group of colleagues from the Bridgeport-New Haven region led an effort to pass House Bill No. 5305, AN ACT CONCERNING A REQUEST FOR PROPOSALS TO QUALIFY AN ENTITY TO DEVELOP A CASINO GAMING FACILITY IN THE STATE. The bill opens the door to further commercial casino gaming in Connecticut. It did not get a vote in the State Senate but the group is vowing to come back with more allies and introduce the bill again in the 2019 session.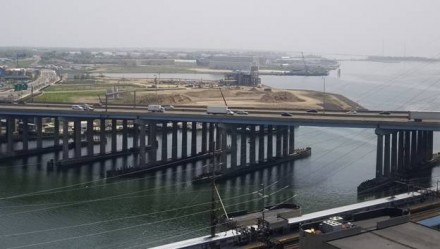 "We are seeing a vision for the creation of thousands of jobs in Bridgeport, and that is going to help people all over Connecticut," said Mayor Joe Ganim. "I am very proud of Bridgeport's lawmakers for moving this agenda forward. Passing this bill in the house was huge. This fight continues, and something of this magnitude typically takes time to become law. But this public-private partnership between Bridgeport and our region, with Bridgeport Landing Development and MGM leading the charge to bring thousands of jobs through casino gaming will continue. We will raise this bill again, get it passed in the house and senate, and get it signed by the governor, whoever that is next year."

State Rep. Jack Hennessy, Chair of the Bridgeport Delegation, said "I am very proud that we got the casino bill out of committee, and out of the house–it was a great win for Bridgeport! We could not have done it without the New Haven and the Bridgeport delegations working together against overwhelming odds. But we did it and we will continue to fight with vision and determination to bring Bridgeport where it needs to be."

Bridgeport State Rep. Chris Rosario (D-128), a co-sponsor of the competitive gaming bill, said, "Getting this bill passed was a bit of a long shot. Many people wrote us off and didn't believe we could all work together and do this. This was not a Democratic issue. This was a bipartisan issue and a regional issue. We got a lot of help from our colleagues from the other side of the aisle, and our allies and partners in New Haven, West Haven, Monroe, Waterbury, Hartford and other places. I want to thank all of them as well. And I want to send this message to the rest of the General Assembly: We are not going to quit. We are not giving up. We are going to be persistent, and we are going to be persistent. We have a vision for the future of Bridgeport and the entire region and that includes jobs and economic development and MGM."

Bridgeport State Rep. Steve Stafstrom (D-129), who led the debate on the competitive gaming bill in the Connecticut House, said, "As a delegation of legislators form this region, we remain steadfastly committed to this project. We believe it is long past time for Connecticut have an open, transparent and honest process and discussion about future casino gaming in our state. If we are going to open casinos off tribal land, then that conversation needs to happen in public. We need to vet the pros and cons of each gaming proposal and allow the public to weigh in through a referendum as our bill called for. Moving out of this session and into next year, we will continue to press for open dialogue on the future of gaming. I want to thank MGM, the Christoph family and Bridgeport Landing Development for remaining committed to this project as well. This is about bringing jobs, bringing development and tax-base growth to Connecticut's largest city, so Bridgeport can be the economic driver the state needs us to be."

Bridgeport and Stratford State Senator Ed Gomes (D-23), said, "We went through an experience this session that was truly beneficial to Bridgeport. I am all about bringing 7,000 jobs to Bridgeport–and we should explore all possibilities to make that happen. When my father moved our family to Bridgeport in 1944 everyone on the whole east coast knew this is where you came to find a good job. We want to bring that kind of job growth back. And we don't intend to stop."

Stratford State Rep. Joe Gresko (D-121) said, "This isn't just a Bridgeport issue. As Bridgeport goes, so go all of our suburbs. Having this kind of casino gaming economic development will benefit my constituents and those of my colleagues in the region. I also want to thank Representative JP Sredzinski of Monroe who also was very helpful getting Republican representatives to vote yes on this bill and get it through the House. We look forward to the partnership renewing in January and will reach out to our colleagues all over the state to generate more support for this great idea."

Mickey Herbert, President of the Bridgeport Regional Business Council, said, "It is very rare for hundreds of local businesses from the region to be as united as they are in support of opening up our laws to bring this significant gaming project to reality in the Bridgeport region. This is all about jobs. I am amazed at the Christophs and what they have done here and their commitment to the city–now carrying forth to this development that we are going to get, sooner or later. I am proud to stand here with the Bridgeport legislative delegation in support of this."

Bob Christoph, jr. of Bridgeport Landing Development said, "I want to make it very clear that both MGM and Bridgeport Landing Development are steadfast in our commitment to the state of Connecticut and the city of Bridgeport, and bringing the jobs here. It is up to us to make that happen. I want to say thank you to the Bridgeport delegation and everyone involved for their amazing efforts and accomplishments this session, and looking forward to making this happen next year."

Bridgeport City Council member Ernie Newton said, "I represent the district where all of this development is beginning to happen. This is great because the district, the city, the surrounding towns and the entire state of Connecticut will benefit from having open, competitive gaming. I want to say thank you personally and directly to the Bridgeport legislative delegation. Nothing happens in a day, but those who fight hard will be victorious."

MGM Resorts International released the following statement: "Our goal is to build a world-class destination resort in Bridgeport and a workforce training center in New Haven. Significant progress was made during the 2018 legislative session, thanks to the leadership of the Bridgeport and New Haven delegations and strong support from the business community and community-based organizations. We look forward to working with these dedicated and determined legislators next year as we continue to advocate for the substantial benefits to Connecticut of a fair, open, transparent and competitive process. Between now and the start of the next session, we intend to continue talking to the people of Connecticut and their elected representatives about the value to Connecticut of modernizing the state's gaming framework as we build on the substantial progress that has been made this year.