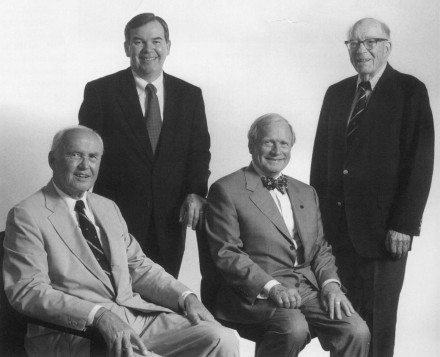 Brilliant, innovative, groundbreaking, generous … Norwick R.G. Goodspeed, the former chief executive of Bridgeport-based People's Bank, was that and much more. He passed away Sunday in New Rochelle New York. He was 88. Goodspeed transformed banking in Connecticut, lobbying the Connecticut Legislature to level the playing field between savings banks and the large commercial banks that had all the consumer glory via state banking laws. As a result, competition soared and new banking services opened to stimulate jobs and business growth.

In an interview Goodspeed gave me in 1992 for an oral history project for People's Bank, he explained that regulation stymied savings bank diversification. "Commercial banks realized that they had the best of both worlds. They had checking accounts. They had savings accounts. They had everything. They didn't need any more banking powers. The last thing in the world they wanted was to let savings banks in on their turf. They told the legislators to just leave everything the way it is … It was hard to compete."
Goodspeed was not a homegrown banker. He graduated from Yale Law School before joining the Bridgeport law firm Pullman, Comley, Bradley & Reeves, the bank's legal representative, in 1945. He became the law firm's leading expert on zoning. He joined the bank in 1967 when Samuel Hawley served as chief executive. Goodspeed would eventually succeeded Hawley. Along the way Goodspeed lobbied state legislators about the virtues of a progressive banking system that would build the economy, add jobs and grow the tax base. He went where no savings bank executive had gone before, exhaustive testimony at state legislative hearings and buying a table at various state party fundraising events, as the commercial bankers had done for so many decades, to gain legislative access to share his appeal to level the playing field.
In 1976, because of Goodspeed's legislative efforts, state law allowed savings banks to offer personal checking accounts. Under Goodspeed's leadership Bridgeport-based People's Savings Bank expanded around the state. In 1982 it was illegal for a savings bank to hold a commercial charter. Goodspeed purchased the assets and liabilities of a commercial bank in Stamford, but not the charter. Commercial bankers cried foul in court. People's won the case in the U.S. Supreme Court. When Goodspeed heard the news, he was so excited that his pipe smoke set off the bank's fire alarm.
As the bank made money, Goodspeed shared the success with numerous social service, education and civic organizations throughout the city, continuing the call of social responsibility started by Hawley and built further by Goodspeed's replacement David Carson. Hawley and Goodspeed recruited Carson, a trained actuary, to take over as president in 1983 and then chief executive in 1984 when Goodspeed decided to retire.