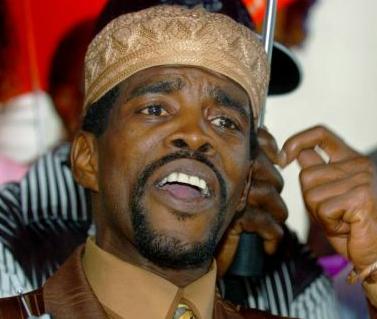 Former State Senator Ernie Newton Monday night continued his comeback from a federal corruption conviction seven years ago to claim the Democratic endorsement for the State Senate seat he was forced to relinquish. He won the endorsement for Connecticut's 23rd State Senate District over incumbent Ed Gomes and State Rep. Andres Ayala at the party convention at Testo's Restaurant.

"This campaign is about redemption and opportunity of our people and our community," Newton announced to cheering supporters inside Testo's Restaurant at 6:46 p.m. just minutes after he was endorsed, adding he was sorry for the mistakes he had made that led to his prison time. "The message I am bringing to the people is that it's time that our community redeem the great promise we have. We have too many, both young and old, that have lost the passion to fight, that have lost the belief that these communities can rise and be great. I am here as an example that our redemption is upon us. It is at our doorstep …
"We need the opportunity to work. We need the opportunity to be safe. And we need the opportunity to believe again … whether it's property taxes, continued improving relations with our police force, jobs for people in our community, cleaner streets and neighborhoods."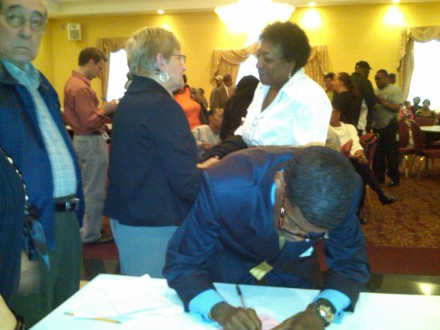 Both Ayala and Gomes secured enough delegate support to wage a primary against Newton on Aug. 14. Newton still has a lot of work to do to win the primary. Ayala will have $100K to spend on the verge of qualifying for Connecticut's public financing system. Ayala will also have the political operation of Mayor Bill Finch behind him. Gomes has started late in raising money, but he has power of incumbency and strong labor contacts that are important in pulling a primary vote. Gomes left Testo's shortly after the endorsement clearly upset he was not backed by a majority of the party. He must now build a campaign organization if he wants to keep his seat.
Even before the evening started, supporters of Gomes and Ayala had a game plan: stop Newton from securing the endorsement. Newton was endorsed on the number he needed, 27 out of the 53 delegates in attendance.
Political operatives of Mayor Bill Finch, on behalf of Ayala, spent the past several days trying to figure out a scenario to deny Newton the endorsement. Newton will now appear on the top line of the Democratic primary ballot next to Congressman Chris Murphy who won the endorsement for U.S. Senate at the recent party convention. He is being challenged by former Connecticut Secretary of the State Susan Bysiewicz. Most city political operatives believe Newton winning the endorsement will help to resuscitate his relationship with voters.
Minutes after Newton was endorsed he told OIB: "I've been working on this comeback for a long time with folks that know I will work hard for them in Hartford to bring our city back."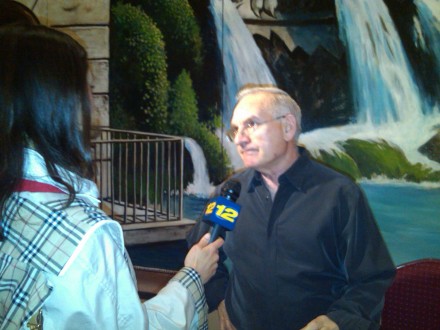 City Councilwoman Evette Brantley entered Gomes' name into nomination saying he holds a seat that is part of the legacy of the late State Senator Margaret Morton. Newton occupied the seat prior to Gomes.
A roll-call vote selected City Councilman John Olson as the permanent chair of the convention. Vice Chair Dottie Guman served as secretary for the convention conducting the roll-call vote just after 6 p.m.
City Councilman Rich Paoletto placed Ayala's name into nomination seconded by City Councilwoman Lydia Martinez.
Charlie Coviello, multiple mayoral candidate, entered Newton's name saying "we will need a senator who will fight for our community … I am proud to place Ernest Newton's name into nomination."
A force of Newton supporters showed up wearing Newton for Senate shirts.
The biggest delegate surprise of the evening, according to Finch loyalists was City Councilman Bob Curwen, whose wife is a city employee, voting for Newton. They had expected Curwen to vote for Ayala and were befuddled by the turn of events. Without Curwen's vote, Newton would have been denied the endorsement.
The State Senate district covers roughly 75 percent of Bridgeport and a portion of Stratford.
Mayor Bill Finch issued the following statement about Newton:
"As a former state Senate colleague, Ernie and I worked together for many years. While I wish him well in all his endeavors, when Ernie and I recently spoke I told him that I do not think that this is the best decision, for him or the City."