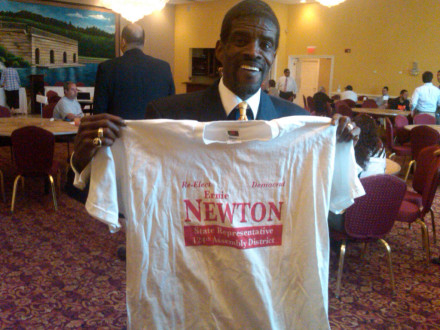 The state judge presiding over Ernie's Newton's pending trial has told prosecutors their case alleging criminal campaign finance violations is thin. In court on Friday she added she'd be reluctant to sentence him to a prison term for allegedly falsifying $500 in campaign donations for his 2012 run for State Senate. The government does not accuse Newton of using campaign funds for personal gain. Newton's lawyer Darnell Crosland turned down a plea offer that would require Newton to repay the $80,000 public grant Newton spent on the campaign.

The government accuses Newton of falsifying donations to receive the grant under the state's Citizens Election Program of publicly funded races. Newton raised $15,000 in small donations to trigger an $80,000 grant. The government claims when Newton was $500 short on the $15,000 threshold he prevailed upon five individuals to submit paperwork they had contributed $100 each. Newton denies the charges. Newton finished second to Andres Ayala in the 2012 primary. Newton's lawyer says Newton was charged criminally for allegations that are generally handled as a civil matter, adding that Newton was specifically targeted by the state.
Judge Joan Alexander has also stated the government was negligent, but not reckless, in its arrest warrant for Newton. The judge postponed the case until July 1, saying a trial date would not start until after the November election. Newton was endorsed Wednesday night for the State House seat he occupied for 15 years.
Crosland is also a candidate for public office this year. He's the Democratic-endorsed candidate for judge of probate in Norwalk.
Whether Newton has a primary opponent is an open question. City fire commissioner William Marshall had contemplated a run, but told OIB he will not be a candidate. Board of Education member Andre Baker has also given it some thought. He told OIB Friday morning he doubts he'll be a candidate, as he swings back and forth about running, not running, maybe running.