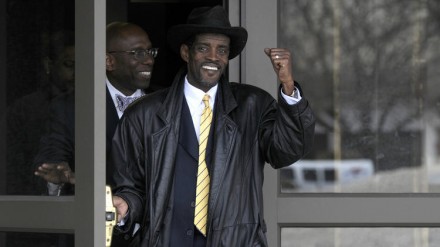 Noting he received no personal financial benefit, Superior Court Judge Julia Dewey on Friday sentenced former State Senator Ernie Newton to just six months in state prison for violating campaign finance laws. Dewey allowed Newton to remain free pending appeal.

Newton received a mixed verdict from a jury on charges of falsifying $500 in campaign donations that led to approval of roughly $80,000 in public campaign funds for his 2012 Democratic State Senate primary race won by Andres Ayala.
Newton and his lawyer Darnell Crosland argued similar matters have been handled civilly.
Newton took the sentencing in stride Friday afternoon, reminding he was not convicted on the most serious charges.
"God is good," Newton told OIB by phone after the sentencing. "I'm just grateful that what the state was looking into did not happen. I look forward to fighting for the community."
When asked how he was holding up he replied optimistically, "Come on. I'm talking to you. Everything is going to turn out fine."
Newton added he believes the reason he received state time is because Judge Dewy took into account his federal conviction.
The larger question for Newton is how this will impact his federal probation. When charged by the state he was still on federal supervised release going back to his federal conviction on corruption charges 10 years ago.
On Tuesday, Newton is expected to appear before U. S. District Judge Robert Chatigny for violating his federal supervised release. Judge Dewey said she would allow her sentence of Newton to run concurrent with any penalty imposed by Chatigny who could simply extend Newton's supervised release and/or send him to a federal facility for several months based on violation guidelines.
State Senator Ed Gomes stepped up for Newton urging leniency.
Hartford Courant coverage:
"I don't see how it benefits anybody for Ernie to do another jail sentence," said Sen. Edwin A. Gomes, D-Bridgeport. "To put a person in jail for some of the things I heard went on in that campaign, I think, is a little far reaching. I could sit here and name things that are a lot more egregious than what I heard here."

…Dewey told Newton that she could not ignore his federal conviction, but at the same time saw many mitigating factors. She noted that the jury did not reach a verdict on the most serious charge, first-degree larceny, and acquitted Newton of the felony charge of tampering with a witness. She said that there was no personal financial benefit to Newton, and said the illegal acts were a result of his campaign's sloppiness and failure to keep track of how much it had raised.

Full story here