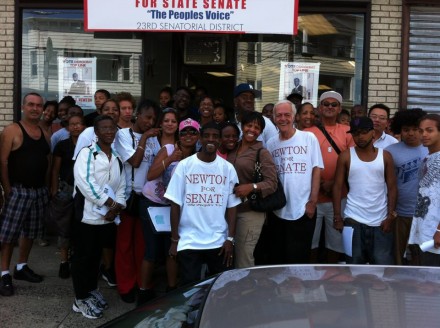 Awaiting a legal ruling from a state judge regarding alleged campaign finance law violations, Ernie Newton is weighing campaign options that include running for one of the two legislative seats he once occupied. In preparation for a run he will become a member of the Democratic Town Committee in the 139th District that serves his East End voter base. Newton says "don't count me out" irrespective of the pending court case.

Last year the state charged Newton with criminal violations of state campaign finance laws, claiming he falsified five donations that triggered an $80,000 grant from the Citizens Election Program of publicly financed races for his 2012 State Senate run. He has not been charged with using money for private gain. In filing a motion to dismiss the case, Newtown's lawyer Darnell Crosland claims state investigators misrepresented the facts in an effort to target Newton who was forced from office in 2005 following federal corruption charges. The state accuses Newton of manipulating five donors to represent they made contributions without providing the money that helped the campaign qualify for the state grant to finance the race. Newton finished a close second to Andres Ayala in the primary.
Newton's lawyer claims Newton was charged criminally for cases that are generally resolved civilly. The judge is expected to rule on the motion to dismiss in late March. Newton says he will likely run for office even if the judge does not dismiss the case in March and sets a trial date.
Despite Newton's legal challenges he's still popular in his East End base and would pose a significant obstacle to incumbent State Rep. Don Clemons if he decides to challenge him. Town committee members in the East End sway the endorsement for the State House seat. Newton could even bypass public financing, if it were an issue with his case pending, and be the favorite to win a primary against Clemons.
Challenging Ayala, however, is a different story because of the size of a State Senate district that covers about two-thirds of the city. Money and messaging become more important. Newton says he would have won the senate seat in 2012 if then incumbent State Senator Ed Gomes did not siphon support from black voters.
In this gubernatorial and legislative cycle, various conventions to endorse candidates will take place in May with party primaries in August.