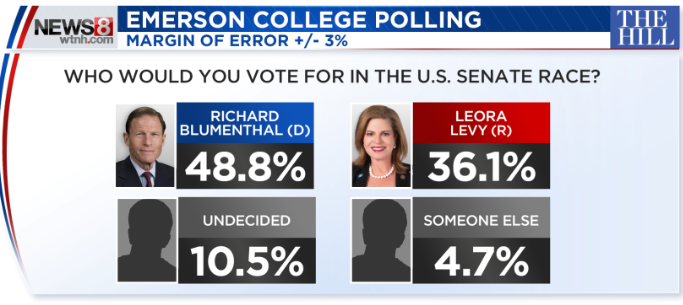 From News 8:
In the race for U.S. Senate, incumbent Sen. Richard Blumenthal holds a commanding 13-point lead over Leora Levy, his Republican challenger, according to a new voter survey from WTNH / The Hill / Emerson College Polling.

The poll of 1,000 likely voters found that Blumenthal leads Levy by a 49% to 36% margin.

Blumenthal enjoys deep support from women as well as young and older voters. About 11% of voters remain undecided and 5% plan to vote for someone else. The poll was conducted Sept. 7-9 and has a margin of error of plus or minus 3 percentage points.

Since May, support for Blumenthal has dropped by 3 points while support for Levy has remained steady.

"A majority of voters over 50 plan to support Blumenthal, however voters under 50 are more split," said Spencer Kimball, executive director of Emerson College Polling.

"There's a big gender divide as well in Connecticut, where women are twice as likely to be voting essentially for the Democratic candidate than the males voting for the Republicans," Kimball said.
Full story here.