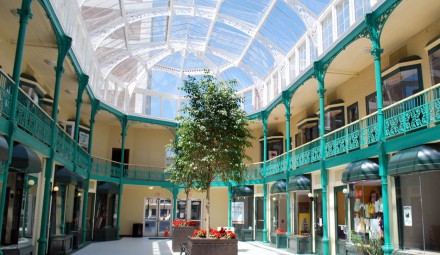 From CreateHereNow Bridgeport, a collaboration between the State of Connecticut Department of Economic and Community Development (DECD), The Downtown Special Services District (DSSD), The City of Bridgeport, and The Cultural Alliance of Fairfield County (CAFC).
The Bridgeport Arcade Mall will be brimming with activity on Saturday, May 18th from 12-5pm for "Spring-Up!" CreateHereNow Bridgeport's Arcade & Main Street Storefronts Grand Opening Event located at The Arcade Mall, 1001 Main Street, Bridgeport.


The Arcade & Main Street Storefronts: Made in Bridgeport, Marroquin Ruben Weaving Workshop, Paradox Ink, Park City Desktop, and Magnacon 7 will be hosting special workshops and discounts throughout the day. Additional festivities include live music, a children's mosaic program at The Bridgeport Arts + Cultural Council, refreshments, and a public art tour Bridgeport Creates. All are invited to attend this free event featuring art, performance, and innovation at this historic destination.

"We are very excited to activate downtown Bridgeport with these distinctive businesses and public art project," said Project Manager Eve Liptak. "All are invited to take part in this multifaceted celebration of enterprise, creativity and community."

The event title "Spring-Up!" draws upon the pop-up energy of the initiative, where five new businesses (The Arcade & Main Street Storefronts) were launched this spring through the CreateHereNow Bridgeport pilot program in collaboration with POKO Partners LLC. POKO sponsored these pioneering projects at their Arcade Mall Location, offering rent and utility discounts as part of the CreateHereNow Bridgeport initiative.

Program partners including Michael Moore, President and CEO of Bridgeport's Downtown Special Services District and Ryan Odinak, Executive Director of the Cultural Alliance of Fairfield County, will be in attendance to speak on behalf of the program and take part in the formal ribbon cutting.

"Bridgeport's artists and small business owners have been one of the driving forces of the success of our downtown neighborhood," said Mayor Finch. "Thanks to the efforts of the CreateHereNow program, the historic Arcade building will be alive with creative businesses and entrepreneurs."

CreateHereNow Bridgeport will also be hosting a "Pop-Up Poetry Lounge" on Thursday, May 23rd, 5-8pm at their headquarters 1042 Broad Street (John Street entrance), Bridgeport CT 06604. This free evening social will highlight literary artists from NYC, New Haven, and Bridgeport. Attendees can take part in a Magnetic Poetry Installation with Pedro Yanowitz, Storytelling Series with Chris Arnott, Lyrical Voices with Shanna Melton, and open mic readings with Tim Kirkpatrick.

"Spring-Up" is a culminating event of the CreateHereNow Bridgeport pilot program that launched in early February. The City of Bridgeport was selected as the first site of CreateHereNow, with the goal of creating sustainable placemaking initiatives in 19 municipalities throughout Connecticut.

Since its inception, CreateHereNow Bridgeport has built relationships with property owners, community groups, and hosted a multitude of events including Bridgeport Arts Fest Info Sessions, a bike-share forum, creative workshops, Soul Sister's Studio Pop-Up and a fashion show by FabuLush LLC. There has been an overwhelming response from entrepreneurs interested in this ground-breaking initiative with over 60 pre-applications received during the program's short span. Pre-Applications are still accepted and program expansion plans are in development for a "Phase II" pending additional funding.

About The Arcade & Main Street Storefronts:

Made in Bridgeport: Made In Bridgeport is a producer of customized, one of a kind works of art. Jewelry is designed and produced by artist Robin Gilmore Jopp. Such items are necklaces, bracelets, rings, earrings, belts and other fashion and home décor accessories. MIB sells products that are proclaimed, "urban artifacts," "salvaged hardware" and "vintage treasures" as are reminiscent of the history of Bridgeport Connecticut and its great manufacturing and industries of days gone by. Along with the creation of wearable art and handcrafted accessories, made in Bridgeport's Owner also provides Consigning opportunities for Artisan works, vintage items and workshops for learning techniques in jewelry making, crafting projects, business topics as well as provides events/parties for children and adults with a crafting and creative theme.

Marroquin Ruben Weaving Workshop: Marroquin Ruben Weaving Workshop is a place for people who are interested learning the craft of weaving and fiber arts. Marroquin will be teaching weaving workshops on different types of looms, with various projects developed by the students. The courses will emphasize the basic steps to design a functional fabric, how to read and interpret weaving drafts, the general terminology related to the craft, as well as how to translate inspirational material into a beautiful prototype. Students will be encouraged to learn the basic weaves and make a sample blanket with several different patterns and then plan a personal project using one or multiple patterns of their choice.

Instructor Ruben Marroquin has taught at the Bridgeport Arts Fest, the Bridgeport YMCA, and The Weaving Hand in Brooklyn, NY. Open to anyone interested in the craft of weaving, all ages and abilities are welcome! The workshop will also function as a fiber art gallery to display students and Marroquin's own projects.

Paradox Ink: After 10 years of running Paradox Ink out of a private studio, Liz Squillace is opening up her screenprinting and mural business in a Public Storefront at the Arcade in downtown Bridgeport, CT. Paradox Ink brings high quality, artistic screenprinting to clients, as well as executing exciting murals and public art. In this new location, Liz Squillace will share the craft of screenprinting with others through workshops ranging from the basics to more complex methods of screen making and color separation. If you've ever wanted to learn to do-it-yourself or if you have a project you need printed or painted, Paradox Ink will bring your vision to fruition.

Park City Desktop: Park City Desktop is a desktop publishing teaching facility where students learn hands on how to work with the Adobe Creative Suite and other applications to develop print material and multimedia applications for the web. Park City uses the hands on first approach to teach their students. Our goal is to provide the skills needed to run a basic marketing department for entrepreneurs and start-ups and to provide graphic design and multimedia concepts to the residents of Bridgeport and the surrounding communities with the goal of developing a talent pool for many of the creative agencies in Fairfield County.

In addition, our instructors Eric Toro and Kim Capone are trained designers. When not in the classroom, they work as print as print and web designers. The ability of our trainers to relate their real-life work experience to the class lessons, combined with the well-developed curriculum and our small class size, makes each course at Park City the ideal learning situation.

Magnacon 7: Magnacon 7 is a public art office headed by Curator Rahzul Branch. CreateHereNow Bridgeport and Magnacon 7 have partnered with public artists for Bridgeport Creates-an installation of artworks capturing the essence of the past, present and future City of Bridgeport. Artwork will be on display in various vacant property windows and other surfaces throughout the Downtown Bridgeport area. Designed to engage the pedestrian experience by introducing an element of the unexpected into the everyday sidewalk, works feature images of contemplation, beauty, humor, and Bridgeport's vibrant community. Bridgeport Creates will launch with a formal Public Art Tour during the "Spring-Up" event on May 18th at the Arcade Mall, 1001 Main Street, Bridgeport CT 06604.

Arcade & Main Street Storefronts are currently open with limited hours. Regular hours will begin after May 18th.

For full event and storefront details visit: www.createherenow.org.

About CreateHereNow

CreateHereNow Connecticut is a space reuse pilot program launching in Bridgeport, CT. The primary goal of this project is to activate vacant locations by transforming them into innovative small businesses in the Downtown area. The CreateHereNow Connecitcut program will generate sustainable placemaking initiatives in 20 municipalities throughout CT. Bridgeport is the home of our first pilot program focusing on space reuse and small business development, turning vacant into vibrant.