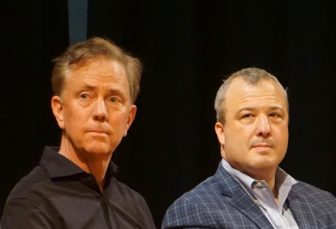 Former state commissioner Jonathan Harris on Friday dropped out of the race for governor to throw his support behind Greenwich entrepreneur Ned Lamont who's on the verge of front-runner status weeks from the Democratic convention. Last week Hartford Mayor Luke Bronin also left the race.

This sets up a convention battle between Lamont and former Connecticut Secretary of the State Susan Bysiewicz. The more the race thins out the more difficult it becomes for Mayor Joe Ganim who's counting on a larger field of establishment candidates to carve up that vote. The Ganim campaign is expected to launch a labor-intensive petition drive to qualify for the August primary. The other way Ganim may qualify is 15 percent of the delegate support at the convention.
Operatives inside the Bysiewicz camp believe her candidacy is better positioned with Ganim on the ballot. Whether that materializes remains to be seen as Lamont builds coalitions to fortify his candidacy, including support from organized labor that influence primary battles.
Lamont stormed onto the state political seen in 2006 defeating then U.S. Senator Joe Lieberman in a war-protest primary. Lieberman won the general election as the de facto Republican candidate running on a third-party line. Lamont ran for governor in 2010 but was lanced by party-endorsed Dan Malloy. Lamont reemerged this election cycle as higher-profile pols such as Malloy, Lieutenant Governor Nancy Wyman and Attorney General George Jepsen opted out of the race.
Statement from Ganim:
"I like Jonathan and wish him well. Although many things unite us as Democrats, as the field narrows, delegates and voters will be able to see more clearly the differences between the candidates. As the only big city mayor in this race who has balanced budgets, my campaign is about building a new Connecticut economy that works for everyone, not just a few, and that begins my making our cities once again engines of economic growth. And as a second chance Mayor, our campaign is also about inclusion and providing an opportunity to all those who haven't even had a first chance to succeed in this state."
News release from Lamont campaign:
"Today, I am announcing that I am ending my campaign for governor," said Harris. "Public service is and will always be close to my heart. I am proud to have dedicated myself to advancing my community in West Hartford and fighting to make Connecticut a great place to live."

Harris continued, "This campaign has been an incredible experience and an important part of my journey as a public servant. I am grateful for the opportunity to bring forward the issues that I hold dear and have a productive conversation about the future of our State. Above all, I want to thank my family for their love and support. I couldn't have done this without them. I also want to thank my supporters for their commitment to this campaign, and for their belief that together we can build a better Connecticut. Earning your support has been one of the highest honors of my life."

Harris then went on to explain his endorsement of Ned Lamont: "When I entered the race, I said that Connecticut needed a bold leader who isn't afraid to speak openly and tackle tough issues. With that in mind, I am happy to announce my support for Ned Lamont for Governor.

"Ned is someone I have become close with over the past few months and I know that he has the fresh perspective we need to fix our state's budget problems and the leadership to build a real grass movement that brings people together to change Connecticut for the better. I hope that my supporters join me in getting behind Ned Lamont. Ned gives Democrats the best chance to win this November, and that is our best chance to bring positive change to our state."

Ned Lamont accepted the endorsement saying "I am humbled to have earned Jonathan's endorsement. He has run a campaign focused on the people of Connecticut. He is a great leader, a dedicated public servant and by far one of the nicest people I could have shared the early days on the campaign trail with. I look forward to working closely with Jonathan to build the ground swell of support that we need to bring real change to Connecticut."

Ned Lamont is a leading member of the business community who has leveraged his experience in the academic and business worlds to attract new business to Connecticut, most notably Infosys, a tech company that will train up to 1,000 people for high paying tech jobs over the next few years. For the past decade Ned has been training the next generation of entrepreneurs as a professor at Central Connecticut State University. Ned Lamont became a well-known figure in Connecticut politics when he challenged Joe Lieberman in the Democratic primary in 2006 over the Iraq War. In 2008 he was the Chair of the Obama campaign and helping him win the support of Connecticut Democrats. In 2010 he challenged Dan Malloy in the Primary for the nomination for Governor, saying that if real political courage wasn't shown Connecticut would find itself in an economic crisis ten years later.
CT Mirror reporter Mark Pazniokas has more:
Bridgeport Mayor Joseph P. Ganim and former Veterans Affairs Commissioner Sean Connolly also will be competing for the nomination at the convention. Guy L. Smith IV, a former business executive, says he will petition for a place in the August primary.

Harris is the second Democrat to exit the race in 11 days. After a long exploratory campaign, Hartford Mayor Luke Bronin decided not to go forward.

U.S. Sen. Chris Murphy, a Democrat seeking re-election, is the de facto leader of the Connecticut Democratic Party this year, directing a coordinated campaign. He has not publicly endorsed a gubernatorial candidate, but his relationship with Bysiewicz has been fraught since crushing her in a primary for the Senate nomination in 2012.
Full story here.