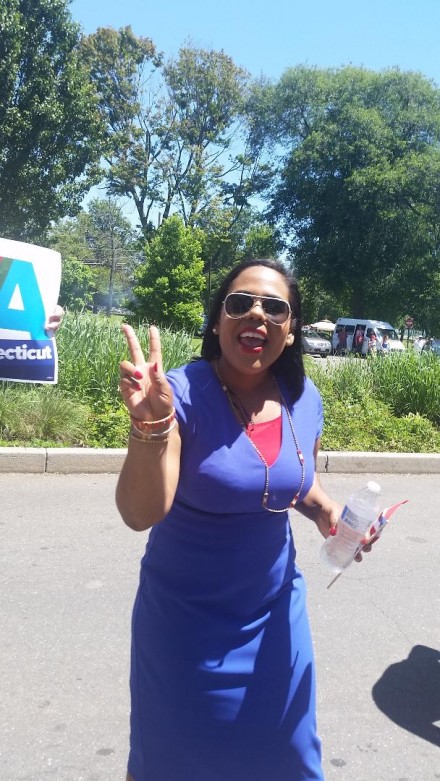 Bye bye SuBy. The Connecticut Working Families Party is urging Democrats to split their ticket, Ned Lamont for governor and union activist Eva Bermudez Zimmerman for lieutenant governor in the August 14 primary. The support is both a repudiation of the convention-endorsed Democrat for lieutenant governor Susan Bysiewicz and an embrace of 31-year-old Bermudez Zimmerman who's building a ground operation she hopes vaults her to the general election. She's on Line B next to Mayor Joe Ganim who is challenging Lamont.

The WFP also announced endorsements of Shawn Wooden for state treasurer and William Tong for attorney general.
If they win their primaries, each will run on the Working Families Party ballot line–Row C–in the general election.
"2018 is a decisive year for the people of Connecticut," says Lindsay Farrell, State Director of CT Working Families Party. "We face unprecedented attacks on our basic human rights by federal Republicans and must elect champions who will resist those attacks and defend Connecticut's values of fairness, justice, equality, and opportunity. At the same time, we need to do more to uplift working people at the state level with smart, forward-thinking solutions like paid family leave and a $15 minimum wage.
"We are excited today to endorse Ned Lamont, Eva Bermudez Zimmerman, Shawn Wooden, and William Tong because we believe each of these candidates will do the best job of uplifting Connecticut's working families, standing up for our communities under attack, and resisting the growing interference of corporate special interests in our state."
The union-backed WFP has has been instrumental in electing members to the Bridgeport Board of Education as well as returning Ed Gomes to the State Senate in a 2015 special election. Bridgeport, which boasts the largest Latino population in Connecticut, is key territory for Zimmerman who marched in Sunday's Puerto Rican day parade with several other candidates on the August and November ballots.