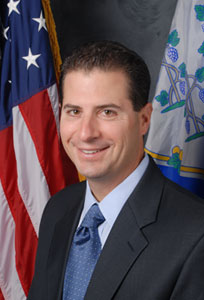 James Nardozzi was brought in as assistant chief to reel in police overtime under Mayor Bill Finch. He appeared to do that for a while, did not endear himself to some police officers who supported Joe Ganim for mayor and then found himself out of a job during a reorganization of the department. He wants his job back. If not, he'll sue the city.

More from CT Post reporter Dan Tepfer.
Nardozzi was fired from his $123,000 job in January by Mayor Joseph Ganim under a reorganization of the Bridgeport Police Department that saw then-Chief Joe Gaudett retire and Armando Perez take his place as the city's top cop.

"Mr. Nardozzi is demanding to remain on the city payroll collecting his full salary, until the end of his employment contract; maintain health and other benefits provided by the city; and at the expiration of his contract, be allowed to retire and collect a pension per the terms of his employment contract. In the alternative Mr. Nardozzi would be willing to accept a settlement of one million dollars from the city," states a letter Brown sent to the city's Civil Service Commission and the labor relations office.
Full story here.