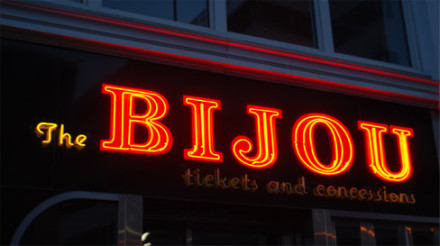 Tickets are now on sale for Barnum Festival events at www.barnumfestival.com and ticketing partner The Bijou Theatre, 275 Fairfield Avenue. Event tickets for the annual salute to showman and entrepreneur P.T. Barnum can be purchased online 24/7 or by calling the Bijou Box Office, open Monday-Friday 11 a.m. to 3 p.m. at (203) 332-3228.

"Barnum Festival events showcase the best of Bridgeport," says 2014 Ringmaster Paul Timpanelli. "Restaurants and pubs, Seaside Park, Long Island Sound, talented singers, elite drum corps and a full scale recreation of Gustave Whitehead's first-in-flight at Sikorsky Memorial Airport."
"The Bijou Theatre is honored to partner with the Barnum Festival as a destination for festival events and venue for ticket promotion," says Bijou Theatre director Kathy Reynolds. "The Belting Beauties musical trio has crafted a special set list for the night of the Barnum Pub Fest and we're excited about hosting the Barnum's Got Talent vocal competition. Mr. Barnum would be proud."
Ticketed events:
Barnum Pub Fest June 20, 2014
Starts 5:30 p.m. at Barnum Publick House, 1020 Broad Street. Tickets: $20. Come enjoy a Barnum Festival signature drink at more than a half-dozen of Bridgeport's wonderful downtown restaurants and pubs after work on a Friday evening. Revelers entertained along the way by jugglers, sword swallowers, and other circus-themed performers. The evening ends at the Bijou Theatre with live entertainment.
The Ringmaster's Ball June 21, 2014
Starts 7 p.m. at Volo Aviation's sleek new headquarters at Sikorsky Memorial Airport in Stratford. Tickets: $175 per person. Dine and dance to NYC Swing presents Big City Swing among sleek jet aircraft, and Bridgeport's own aviation pioneer, Gustave Whitehead's "First in Flight" full-scale re-creation.
Barnum Sails the Sound June 26, 2014
Picnic on the ferry dock at 4:30 p.m.; boat sails at 6:30 p.m. Tickets: $45 includes two free drinks on board the boat. Enjoy a cruise around Long Island Sound with dancing to the sounds of local favorite What Up Funk Band aboard the P.T. Barnum, the flagship of the Bridgeport-Port Jefferson Ferry Company founded by P.T. Barnum.
Skyblast Fireworks/Greater Bridgeport Symphony Pops Concert Pre-Reception June 27, 2014
Evening begins at 6 p.m., with a pre-concert VIP reception at the home of University of Bridgeport President Neil Salonen and his wife, Rebecca. Tickets: $100 includes VIP parking and seating for Greater Bridgeport Symphony Pops concert. The Pops Concert starts at 7:30 p.m., fireworks follow at dusk.
Champions on Parade June 28, 2014
Kennedy Stadium, 1 Lincoln Boulevard, grounds of Central High School. Gates open 4:30 p.m. show starts 6:30. Tickets: $10. If you're a Drum Corp fan or lover of all things musical you will not want to miss this show! Competing Corps include: Connecticut Hurricanes, FusionCore, Hawthorne Caballeros, Skyliners, and Bushwackers. In exhibition: Westchester Brassmen, Saints Brigade, Connecticut Alumni and our own Park City Pride.
Barnum Bobblehead Night at the Bridgeport Bluefish June 28, 2014
Game time is 6:05 p.m. Come to the Ballpark at HarborYard for a night of family fun. Ringmaster Timpanelli throws out the first pitch. The first 500 receive a Ringmaster Bobblehead. Tickets: $12 available through www.bridgeportbluefish.com
Barnum's Got Talent Finale June 28, 2014
Starts 8 p.m. Tickets: $10. Finals of the statewide vocal competition, ages 11 and up for four age groups competing for $500 prizes. Bijou Theatre, 275 Fairfield Avenue.
About The Barnum Festival
The Barnum Festival was established in 1949 to celebrate the life and times of P.T. Barnum and to commemorate the history of Bridgeport. The Barnum Festival is dedicated to providing exciting family entertainment which enriches the community, embraces diversity and celebrates life. Events produced through the passion of our volunteers brings to the community Champions on Parade, The Wing Ding Parade for Children, The "Got Talent" Vocal Competition, a spectacular fireworks display at Seaside Park and The Great Street Parade. For more information, please visit www.barnumfestival.com or call 203-367-8495.