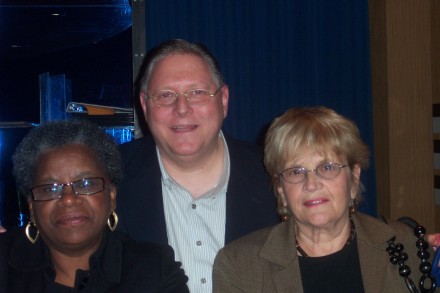 Democratic Party Vice Chairwoman Dottie Guman has bid farewell to the city in which she became a nurse, raised her children, observed campaign life from her political warrior husband John D. Guman Jr. and then followed in his footsteps after he passed away, albeit a much more reserved approach to politics, if just as dedicated to the candidates she chose to support. Guman, the Mother Goose of the city's Democratic Party, has sold and moved out of her house on Hickory Street in the city's Upper East Side where she built a political base.

Guman, who currently resides with her son in Trumbull, will soon tender her resignation as a party officer. Guman is a rarity in the cutthroat world of city politics, when it's often difficult to sort out friends and enemies. She's reliable, honest and her word is steely solid. She served as an important bridge between Democratic Town Chair Mario Testa and party regulars. When Mario was unapproachable, taking his daily afternoon siesta, fighting with a district leader, Dottie was always available. Mario could hand off an assignment to Guman, a political party fundraiser, a campaign event, a headquarters opening and it would get done.
Some party regulars questioned Guman's friendship with Mario with whom she's had her differences from time to time, but she wasn't bashful telling the political leader how she felt about a political or government concern. Some people are built on loyalty. Never was it more tested in Guman's relationship with Mayor Bill Finch. Guman was the godmother of Finch's political career, the one who looked after him when he needed someone the most. Sadly, her political career in Bridgeport ends with Finch serving as her biggest disappointment, in how he governs, in how he treats people, in misplaced priorities and missed opportunities. Five years on the job, Guman says, and what has Finch done to advance the city economically?
In the early 1990s when Finch was out of work and could not find work with two young boys to feed, it was Dottie Guman who stepped up for Finch, even in the face of opposition from her husband who viewed Finch as unfocused, unreliable, undisciplined, a stubborn know-it-all with a habit of sticking foot in mouth. Dottie Guman had a maternal bond with Finch. She saw him as a talented person who was hurting. Finch had bounced around from job to job, fired from this one, lost that one. Bill Finch, as a member of the city council, was a heartbeat away from homelessness. Financially, he had nothing. Late on mortgage payments, late on tax payments, late on child support payments, chased by bill collectors. "We have to help Bill," she'd say. And she did. Campaign work, city work, transit authority job, economic development job. Dottie Guman expended her political capital on Finch.
Some financial stability came to Finch in the late 1990s when he was hired as executive director of the Bridgeport Economic Development Corporation, followed by his election to the State Senate, both efforts aided by Dottie Guman. If not elected to the State Senate, Bill Finch would not be mayor today.
When political developments positioned Finch for the mayoralty, Dottie Guman was there again. Power can do strange things to people and shortly after his election as mayor in 2007, Finch became unrecognizable to Guman, much more like her late husband had predicted. Worse was when Finch directed apoplectic, curse-filled rants at Dottie Guman because she dared to question mayoral decisions. Understand that Dottie Guman's way of cursing is uttering "He's full of prunes." A trend was developing for Finch. He kicked people in the teeth and expected unconditional love in return.
The only thing Dottie Guman wanted from Finch was respect, true word and a little more common sense in his approach to governing. On the campaign trail in 2007 Guman called out Finch on his pledge to cut taxes $600. She knew it was a lie. He ended up raising taxes $600 his first year. Then he attempted to double dip his mayoral check and State Senate pay, something that blew up publicly. Finch got off to an awful start as mayor. To Guman's way of thinking, Finch was more interested in what the job could do for him, than what he could do for the job.
A flashpoint occurred in the Guman-Finch relationship when Dottie's son, John, became treasurer of Mary-Jane Foster's campaign for mayor. Bottom line: John Guman would never have become treasurer of the Foster campaign had he thought Finch was an effective mayor. Foster, too, would not have run had she thought the same, irrespective of Finch's hostility toward the University of Bridgeport where Foster serves as vice president. Finch won the 2011 Democratic primary, but Foster who had low name recognition when she started her campaign in early 2011, and had not sought public office prior, received 43 percent of the vote on the machines being outspent two to one. Finch managed to win his home school Beardsley by just a couple of votes. Guess Dottie Guman's home precinct? Had Finch been a popular mayor he'd have blown out Foster by 50 percentage points.
Dottie Guman did not openly support Foster but if she had Finch would have lost his home school. For the most part she treated the race with benign neglect.
Further erosion came with Finch's support of a mayoral-appointed Board of Education. Dottie Guman was against giving Finch more power. Voters agreed.
So Dottie Guman leaves her Bridgeport political life with sweet and sour memories. Sweet for the friendships she built, the people she helped and sour for at least one person too stubborn to know the difference.